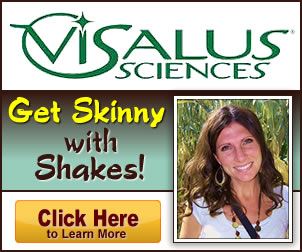 If you haven't yet had a chance to read one of my recent posts, "When all else fails, just cry," you should do it. It's pretty funny and works really well. So be sure to stop by that post before leaving my site today. Now, on with the topic….
Amy Allred joins Visalus
As you might already know, Amy is my beautiful, extremely talented wife who is amazing at pretty much everything she does. And that's no joke, seriously. Everything she does, she does at full speed ahead. Look out Visalus, because she loves your shakes, and when she loves something, everyone she knows will hear about it and probably want it too.
That's just who Amy is. She's the kind of person that makes friends with every person she meets. And by the time I can count my fingers and toes, she'll know everything important there is to know about a person she has just barely met. But the part that baffles me the most, is that most of the people she meets think that she is the most amazing person they have ever met. Well, I guess it's not that baffling, I think that every day.
She has an infectious personality, in an extremely good way.
So why did Amy Allred join Visalus?