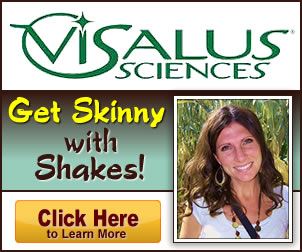 If you haven't yet had a chance to read one of my recent posts, "When all else fails, just cry," you should do it. It's pretty funny and works really well. So be sure to stop by that post before leaving my site today. Now, on with the topic….
Amy Allred joins Visalus
As you might already know, Amy is my beautiful, extremely talented wife who is amazing at pretty much everything she does. And that's no joke, seriously. Everything she does, she does at full speed ahead. Look out Visalus, because she loves your shakes, and when she loves something, everyone she knows will hear about it and probably want it too.
That's just who Amy is. She's the kind of person that makes friends with every person she meets. And by the time I can count my fingers and toes, she'll know everything important there is to know about a person she has just barely met. But the part that baffles me the most, is that most of the people she meets think that she is the most amazing person they have ever met. Well, I guess it's not that baffling, I think that every day.
She has an infectious personality, in an extremely good way.
So why did Amy Allred join Visalus?
Amy didn't ever plan on joining Visalus, she just wanted to be a customer. She was looking for a way to loose some of here "baby" weight and trim down a little, and the Visalus shakes have had some pretty amazing results for others. So she asked her friend, currently a Visalus distributor, to come give her the spill. Amy invited around seven or eight people to the little get together. By the end of the party, six of those eight people purchased a package.
To make a long story short, Amy received a call from her friend who asked her to join as a promoter. Amy refused, but was later convinced that she needed to do it.
As a result, Amy gets her Visalus shakes completely free, plus a check in her pocket every month. Right now it's a small check, but she already has commitments from others who are wanting the shakes.
So why did she join Visalus? She joined because she likes the shakes. And I can tell you this…she isn't even really trying to make money. She is just sharing a product that she, herself, can't get enough of. The checks are a bi-product of that.
How you can join Visalus
It's very simple to do and there are a few different packages you can get started with. My advice, get started with the largest one that you can possibly afford today. It will put you in a better money making position quicker.
To sign up for Visalus as a distributor, Click Here.
If you'd just like to purchase the Visalus shakes, Click Here or contact Amy Allred via Facebook or by emailing her at amy(at)goodideasandtips.com.
Comments
comments