Become a Guest Author on CreateFinancialWealth.com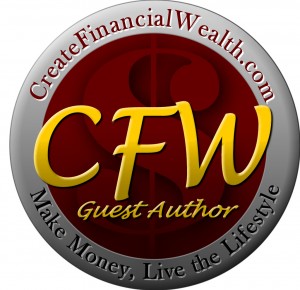 Authors, now is your time to shine! Let's see what you're made of, writing style. As much as I'd like to say that I know it all….I probably don't (still not going to admit it though). That's where you come in. You have a wealth of knowledge and I'd be ecstatic for you to share a piece of it here on CreateFinancialWealth.com.
With that said, here are the ground rules for guest authors:
1. Please stay on topic.
If you're savvy in meta data, you can take a peek at mine. If you're not, here are a few topic categories to consider:
Network Marketing
Home Based Businesses
Entrepreneurship
Internet Marketing
Making Money Online
Blogging
Working from Home
Lead Generation
Personal Development
If you're going to submit content about your Grandma's dentures, then please, make sure it relates to her making money from home or to one of the topics above.
2. Please use correct grammar.
If your English isn't too good, that is a must. My primary audience is English speaking and although your expertise may benefit my readers, they will have a hard time looking past grammar and language errors. Correct punctuation, spelling and layout are critical. Please take a look at a few of my blog posts as an example.
3. I want to give you backlinks.
However, keep your links within the article to one, possibly two. Article links should be to helpful resources for my readers. Save self promoting links for your author bio, which you should include at the bottom of the article. No more than two links in the author bio. Feel free to use anchor text links. Not a problem.
4. No duplicate content.
Your guest post must be completely 100% original content. Do not copy and paste from a previously written or published article. You must also agree not to publish this post anywhere else after it is submitted or published here. I do check for duplicate content so please don't pull a fast one on me.
5. Please help promote your content and answer questions from your readers.
This isn't a free-for-all backlink directory. I don't want authors who plan to use the stick and move tactic. Stick around, subscribe to your posts comments and answer questions. Interact with your audience.
6. Sign up with Gravatar.com
Part of your article submission is an author bio following the content. CFW shows an image of the author there that is associated to your email address through Gravatar.com. Before submitting your content, please create an account at Gravatar.com. It's completely free.
7. Don't be deterred.
These guidelines are standard for guest authors, so don't worry. If you're content adds value for my readers, you'll have no problem getting your content accepted! I look forward to hearing what you have to offer!
Please include the following with your content:
Your email address used with Gravatar.com
URL's to major social networking pages such as facebook, twitter, google+ and so forth.