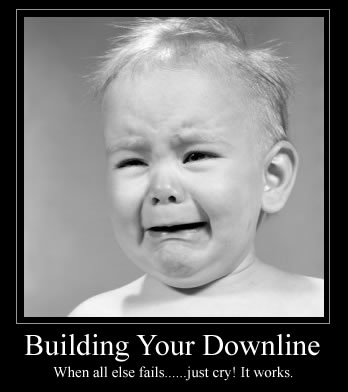 If you're having trouble recruiting others into your business, when all else fails, just cry. Let me explain why.
In my last post I told a story of my wife's recent recruitment into a home based business. But in case you weren't able to read it, I'll tell you the story again.
But before I tell you the story, I want you to know that my wife had no intention whatsoever in joining the opportunity she is now part of. The only thing she wanted was to get her product for free. And the deal was, if you can get three others to buy the same package you want, you can get yours for free.
That was her plan.
So, she planned the home party and invited a handful of her friends to check out the product with her. Several women were interested because the product is related to the health and wellness industry and helps you to lose weight. So naturally, women come flocking, right? I know, if you're a woman and you're reading this, you probably just called me a jerk.
Anyway, most of her friends loved it. They were sold before they even finished the presentation. However, the DVD part of the presentation came and on that DVD presentation were details about the actual opportunity. So my wife looks around and notices that nobody in the room was paying attention during that part. So, she asks the woman who was presenting the product to skip the opportunity part. So she did.
The aftermath of the party resulted in five or six people buying a larger package than the one my wife actually wanted. Free product for Amy. Woohoo!
Then, the current distributor starts telling Amy how amazing that was and that she had never signed up that many people at once. Ever! She then asks her to become a distributor, but Amy declined. She just wanted her free product, and she got it.
The current distributor leaves but then calls her back later on. She starts telling her of the benefits of being a distributor and how amazing she would do, yet, Amy was still not in. Then, it started. The distributor broke down in tears. She needed just one more sale to become a rising star and in addition, her husband works more in one week than most do in two, yet, they barely make ends meet.
So, naturally, Amy starts to take things a bit more seriously, because this lady is her friend.
The result……Amy is now a distributor. And her friend is a rising star!
So, the lesson here is a valuable one that may not work all of the time, but it will work. When all else fails, just cry!
The second lesson here is, if you can create interest in the product, you will naturally get more people in your downline.
Comments
comments