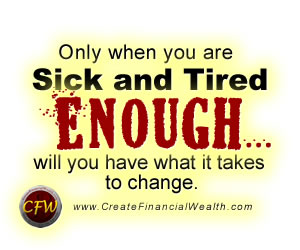 One of the reasons I joined the Network Marketing industry was because my wife asked me to. That's the truth. But that was just one of the reasons. And to be completely honest with you, I had no intention on getting into Network Marketing before that point.
You might be thinking to yourself, "Join  the club!" Right?
My Mother had been part of almost every cosmetic or health drink business there was, yet, I didn't grow up with the lifestyle most people get into this industry to live. Mainly because I think my Mom joined those opportunities simply because she loved the product and wanted to try it out. That, and she really has a strong desire to help others.
But like I said, she didn't make any REAL money from her efforts.
Recently I was filled in on a conversation had between two women. One woman is part of a very popular network marketing company and was trying to convince the other one to join. To make a long story short, the woman already involved in Network Marketing broke down in tears. She spilled her guts to the woman on the other end of the line. Not intentionally, I might add. This was not some sort of a sales scheme. But if it was, it was brilliant because the other woman got started that same night. She was at her lowest point and was being completely authentic.
But the reason she was in tears, is because she is sick and tired enough to do what it takes to succeed in her business. She never sees her husband because he works more hours in a week than most work in two. Yet, after all that time away from his family, they still barely make ends meet. There's no end in site unless something changes.
She's tired of not being able to breathe! Life has her so confined, and it's time to break out. And with that kind of passion, I know she'll do it.
And I can tell you this……there's not much in this world that can prevent someone like that from succeeding. Someone who is sick and tired enough.
Sure, some people may gripe and complain about their horrible lives, yet, they do nothing. Anybody can complain and then go back to work the next day. But it takes a serious deal of motivation to wake up and not go to work the next day.
You see, there's a breaking point, and that breaking point is when you're sick and tired enough to throw all that you've been dealt, out the window, and ask for a fresh hand.
So my question to you is…..when will you reach your breaking point? Or will you ever? When that time comes, you let me know, and I'll show you how to break free!
Comments
comments