A few days ago, I published a blog post titled, "The immediate marketing power of YouTube." Well, I want to show you how to absolutely dominate the first page search results of Google for niche key phrases. It's a lot easier than you might think and requires just a basic knowledge of SEO.
Three Blogs, a YouTube Video and Social Networks Equals First Page Domination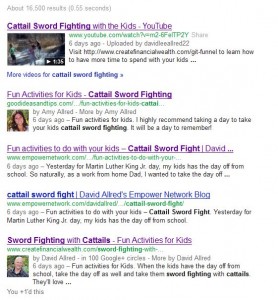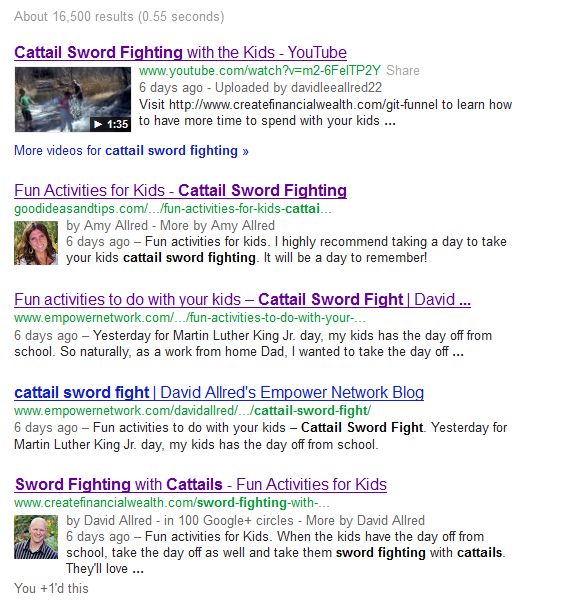 If you take a look at the image I've posted within the content here, you'll notice that I have claimed all the search engine listings above the fold, which are typically the first five or six listings. And when I use the term "above the fold," it simply means everything you immediately see when you land on a web page. Everything that can only be seen by scrolling is considered to be below the fold.
My properties being listed are three blogs: one from my Empower Network business, my wife's blog and this blog. I also have a YouTube video in the listings as well as some social profile linking throughout the rest of the results below the fold. The YouTube video ranked number two in the SERP's within a few minutes of uploading it to my YouTube channel.
Given, my key phrase is "Cattail sword fight." Not a lot of people search for sword fighting with cattails, but some do. And when they do, I am pretty much guaranteed to get their clicks. Agreed!
So what if I were to do this exact thing for other key phrases that aren't the most popular phrases on the internet, yet, were still searched for? I could dominate above the fold for every one of those phrases and guarantee myself that traffic instead of competing against everyone else for the high traffic phrases.
I am willing to bet, that over time, dominating several long-tail, less searched for phrases, will prove to be more profitable than trying to dominate a few, more searched for phrases.
Reverse SEO, or Online Reputation Management
This is also a popular tactic used by SEO companies around the globe. When a client has received some negative press through a forum or complaint board, those listings can often be pushed off the first page results by simply dominating all the positions on the first page.
Just as you see here, I have three blogs and a video in the top five spots. If I threw in a Tumblr post, promoted my social profiles and one or two more other properties, I'd own everything on the first page of Google.
So if you've recently found yourself on a complaint forum, instead of worrying about what they're saying about you or trying to combat them, simply rank them off the first page by dominating the search results with positive media.
What SEO Tactics Should You Know?
Like I said, a basic knowledge of on site SEO can assist you in gaining this sort of ranking results. One of the cool things about my opportunity, the Empower Network, is their blogging platform is already search engine optimized. It comes equipped with SEO tools to let you know how your blog post is measuring up. It will tell you exactly what you need to add to your content in order to get more ranking juice.
The basic membership for the Empower Network blogging system is a mere $25 per month. In addition to the basic membership, they offer marketing courses designed to teach you how to get results online. Highly recommended!
With that said, basic SEO knowledge includes proper titles, heading tags, keyword density, anchor tags for images and a basic knowledge of HTML.
In conclusion, sometimes, the best strategy to large amounts of SEO traffic online is to rank for more long-tail, less searched for phrases rather than compete for the big ones.
Comments
comments