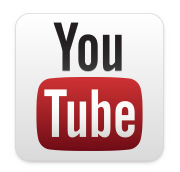 If you are marketing your business online and have not yet tapped into YouTube, it's time to start. In this quick post, you'll learn of the immediate marketing power of YouTube, why you should be using it to grow your business and a few handy tips I use with my videos.
Obviously, in order to utilize YouTube, you've got to produce videos, and if you want to be seen as a professional, you'll want to make sure those videos are recorded in HD, or high definition. Most newer computers come pre-intalled with HD cameras and most cell phones do as well. If your computer is a few years old, check the resolution of the video just to be sure.
The reason you want your videos in HD, you can tell the difference, especially on YouTube, when a video is recorded with an HD camera. It fills the entire video frame, where a video that isn't HD, has all that black area on the sides and isn't as vibrant. So if you want to look like a pro, you can do that with an HD camera. And if your computer, cell phone or camcorder isn't HD, you can pick up a decent HD camcorder for your computer on Ebay or at a local electronics store for around $40 to $50 bucks. I recently purchased the Logitech C615 and it works perfectly.
The Immediate Marketing Power of YouTube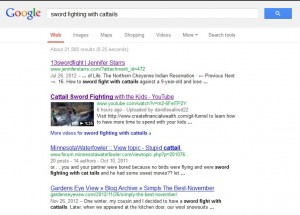 Yesterday, I uploaded a video to YouTube, and within minutes, it was ranked first page in Google search results! Not only was it first page, it was in the second position for the key phrase I wanted it to be found for. It didn't take days or even hours, it was there within minutes of uploading that video.
If someone were to type "sword fighting with cattails," I'd surely get the click for it over all the other search results. The reason….people love videos. Most people are visual searchers, meaning, even when reading magazines, they'll scroll through the pages with their eyes until they find an image they like. They'll then stop and start reading. The same applies online for search results and blog posts.
Content, without images or videos, is dull….er.
A Few Tips to get Your YouTube Videos Ranked Higher
YouTube is a video search engine, and just like any search engine, there are tricks to getting your videos to rank higher in both the YouTube search engine as well as on Google and Bing.
Here's are my YouTube Tips:
Video Title: The most important thing you can do is include the key words and phrases you'd like your video to be found for in your title. When you first upload your video, YouTube will place the name of your video file as the title, change that into your key phrases. NOTE: Generally, the shorter the key phrase, the more difficult it will be to rank high for it. It's always better to use "long tail" phrases, such as, "sword fighting with cattails," instead of "cattails."
Description: I have a few tips for the description. The first is to also include your key phrases with the description, as well as a brief explanation of what your video is about. This is also a good place to include a call to action and a link to the page you'd like your video traffic to be sent to. To make a link in the your YouTube video description, simply type the URL of your web page, including "http://." If you don't include a URL and a call to action, all the traffic your video receives won't have a place to go once the video ends. Make sure they have a place to go by adding the URL to a splash page of some sort.
Tags: YouTube gives you an opportunity to add tags to your video, which also helps searchers find your video. Include as many tags as you possibly can that are relevant to the content of your video. "Sword fighting with cattails" was one of the tags I used with my video.
Privacy Settings: Make sure, if you want your video to be found at all, to set this option to "Public."
Hopefully these tips will be of use to you. Again, of you aren't using YouTube, begin as soon as you can. YouTube is the number two search engine on the web, only second to Google. So if you have been avoiding it because you feel uncomfortable in front of a camera, it's time to get over it and join the "in crowd" on YouTube.
If you have any YouTube marketing tips or tricks, we'd love to hear them in the comments section below.
Comments
comments