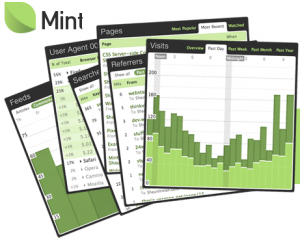 I can see you! No really. I can see when, how and for what you are here on my site right now, as you read this post. I know, old news right. Tracking software is old news. Well, for a lot of people I know, it's a brand new concept, or at least something they haven't seen the value in as of yet. For those of you who pay special attention to what you are being found for on the world wide web, then tracking software is a vital and important part to your marketing campaign.
Allow me to introduce you to the tracking software I currently use to monitor visits to my site. It's called Mint at haveamint.com. It's a simple, self-hosted tracking software integrated into your blog or website that shows you real time statistics for your site. Here are a few things it gives you:
Your most Recent visits. Including the key phrase they searched for to reach your site. This includes a link to click on to see the search engine they used or referring site.
Keywords of Key Phrases you are most commonly found for.
Images your were found for.
An hourly record of unique visits and page views along with an archive of your weekly, monthly and past years traffic results including easy to read graphs.
A list of up to the past 72 hours of the most visited pages on your site.
Mint is a software designed to give you useful information about your site at a single glance. And sure, there are things it doesn't do and services it doesn't compare to, but by a simple click on an icon in my bookmarks Toolbar, you have access to how your site is being seen and found on the net.
I have had Mint installed for over a year now and I believe it was $35 US but has now been reduced to $30 US. It is a one time fee. There are no recurring monthly fees, which is nice.
I can tell you that I have been found for some pretty interesting key phrases recently. I get found for:
How old is Amy Allred
How to become a millionaire
Funny Cubicle Signs
The list goes on and on and on. And there you have it. Have fun with it. I know you will find it useful, however, I need to attach a bit of advice.
Question: The following statements are true of false:  The longer you stare at your stats, the better they get. The more often you look at your stats the more they improve.
Answer: False! Simply looking at your stats will not improve your stats. You must not get addicted at always checking. Do the work and know that mint will do its part and tell you your results!
Comments
comments