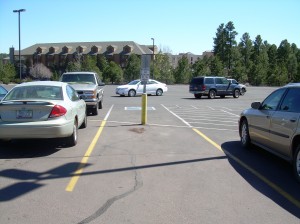 Just a little while ago my wife and I were in Flagstaff Arizona and happened to be in the Kohl's parking lot waiting on a buddy of mine to pick me up. We had planned a trip to LA for a training seminar at the Hubbard College of Administration and were going to travel there together. While waiting there in the parking lot, I couldn't help but notice an empty parking spot right up front. I thought to myself, how could that spot still be open? There were people coming in and out of the parking lot and it should have been taken by now.
So I strolled over there and noticed a sign posted there at the head of the parking spot. As I got closer, I noticed that the sign read, "Reserved for Associate of the Month." I stood there in awe for a moment just thinking about the whole thing. I thought to myself how badly I would not want to have that parking spot and I will tell you why. I know that the associate of the month probably only makes around $25,000 to $35,000 a year, tops. That income may be great for a college student or someone who is looking for a job, but not me. I also know the amount of time that associate has put into that job to reach that status and also know that there had to be a little kissing up to get there. They probably get a plaque or a framed picture on the wall in some hallway or break room as well. There is no monetary reward, maybe a promotion in the future is all. The perks involve a first class parking spot and some sought after recognition.
Associate of the Month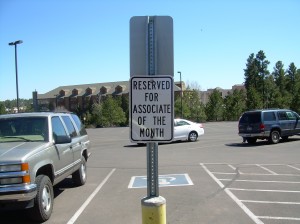 All I have to say is WOW! Congratulations to all of you who have ever received an "Associate of the Month" award. You know what it reminds me of? It reminds me of the movie, "Employee of the Month," with Dane Cook and Jessica Simpson. Funny movie. You should watch it if you haven't! It made me appreciate where I am in my life even more.
Now, in my business opportunity we also have an associate of the month. Here you also get a lot of the same perks as you do at a retail store. You get your picture put online, you get a video of you and your success to put on your website, your name is announced on a company wide call and you are given the recognition for your success that you deserve. The differences are in the income. The difference is over 6-figures! At Kohl's an associate of the month may clear $30,000, with this business opportunity one will probably clear $250,000. And this is the crazy thing, they do it in about 20 hours of work per week. That's probably less than half of the time an employee puts in whether associate of the month or not! It's amazing what can happen to your income by simply thinking at a bigger level. The bigger level is Entrepreneurship.
Big difference right!? So as much as I love the front parking spot, I think I will stay right where I'm at. What do you think?
Comments
comments