This is a sponsored post written by me on behalf of SharpSpring CRM for IZEA Worldwide. All opinions are 100% mine.
As I look back on my professional career, I can't help but wish I had access to some of the amazing Customer Relationship Management (CRM) tools available today. I think of the sales industries I've worked in and how things would have been different with an effective CRM to manage, track and create relationships with the leads I was generating. And as most of you know, generating leads can sometimes be an expensive process, depending on the methods you use. Sometimes PPC, or Pay Per Click, isn't the most cost effective method.

Free CRM For Life
With that said, I was recently introduced to SharpSpring CRM, which is a free CRM for small businesses. You heard that right, it's free to use, FOR LIFE. There's no trial period…it's actually free. SharpSpring has over 7,000 businesses currently use its affordable marketing automation platform. The free CRM is a new product built from their experience of what small businesses need in a CRM plus sales and marketing tools to help the business grow. If you'd like to talk to users, access the community forum. So if you have a question or are curious about their experience using the software, you'll find the information in that forum extremely valuable.
Lead and Customer Tracking
There are several cool features about SharpSpring CRM but one of my favorite is the tracking features.
Within your account, you'll have access to your social media dashboard, which allows you to see how your leads are interacting with your brand and what they're saying. You have the ability to find and filter through social media using hashtags and keywords and then turn around and engage those conversations directly from your media dashboard.

Also, as you enter leads and begin creating relationships with them, you can see every detail of how they are responding to your efforts. You'll be able to view a timeline that shows you exactly what emails they've opened and/or responded to, where they've gone to on your website, what contact forms they've filled out and so forth, with visuals of those exact pages and forms as you scroll over those items in the timeline. What a great tool to determine how a lead is progressing and the next steps to be taken.
Email Marketing
Before you sign up with a standard email marketing platform, I would encourage you to take a look at the email marketing features of SharpSpring CRM. You'll find a variety of premium email templates provided for you as well as features for one on one email communication and tracking.
SharpSpring CRM also has a unique and simplified contact form creation tool that allows you easily add standard and custom input fields, that when added through your dashboard, automatically update those forms already embedded on your website. You can also easily customize forms to match your website and branding by simply adding a snippet of CSS code from your websites stylesheet.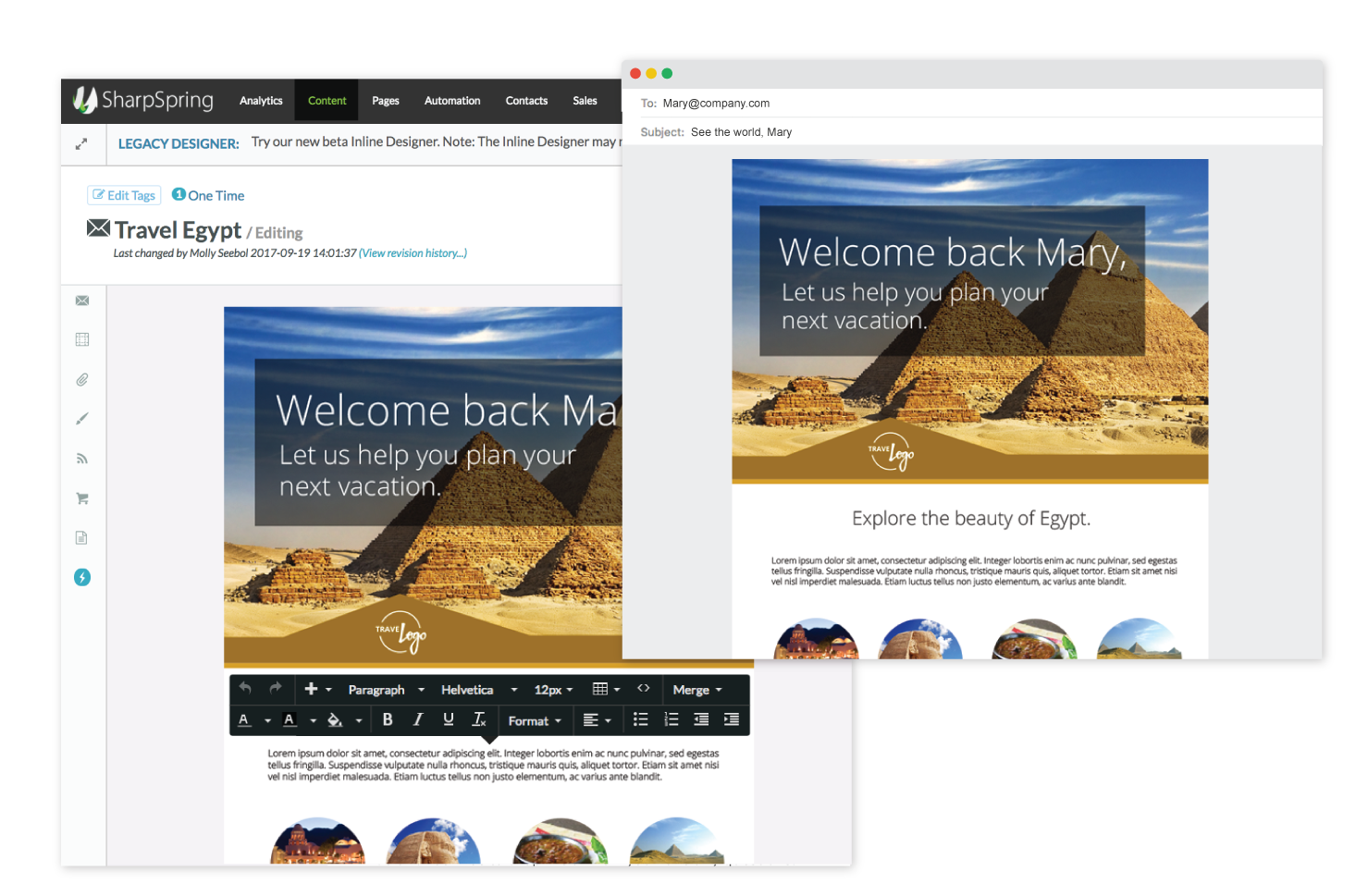 When I was part of the network marketing industry, helping leads progress was key to closing sales and growing your business. With tracking information included in SharpSpring CRM, knowing how to follow up with relevant content would have simplified the process for me. The companies I worked with tried to create CRM's for marketers to use at a great expense, but most of them fell short in many different areas and lacked the integration capabilities that a free sales CRM like this can offer. Give SharpSpring CRM a try. With their expertise in affordable marketing automation, you'll find this CRM has the marketing tools for your small business and can be a powerful tool in getting the most out of the precious leads you are generating.
There are so many other features not mentioned in this article, such as your ability to interact with your sales teams through the CRM and see who their leads are progressing. Set reminders, set schedules and help your team grow through the powerful tools at your fingertips.