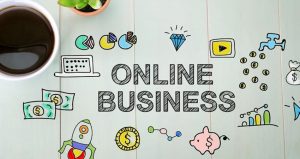 You have decided this is the year to start your own online business. Great decision! Whether you plan to become a full-time entrepreneur or part-time after your regular job, there are a few questions you will need to ask yourself before making your next decision. What should I name my business? What business structure is right for me? How do I finance my business?
What Should I Name My Business?
Spend some time in choosing a business name that will suit your company. Choosing a unique name will help your brand and niche market. Once you have chosen your unique business name, research the websites of the U.S. Patent and Trademark Office to minimize trademark infringement. Having a unique business name will likely help you get a website domain name as your company name.
What Business Structure Should I Form?
Sole Proprietorship, both husband and wife can operate as a sole proprietor.
No paperwork to file and provides flexibility in management when choosing this structure, making it the simplest business structure to form. The downside of this business structure is the sole proprietor is liable for all legal and debt the business incurred.
Partnership, two or more people (not a married couple) who contribute time, money, and knowledge can operate as a general partnership. Legal written paperwork must be created in the partnership agreement. Profits, debts, management, and shares are equally shared. The partners are also equally liable for all legal and debt incurred by the business.
Corporations
A corporation is a legal entity that is separate from its owner. An individual or partners can file for the legal paperwork called an article of incorporation form. The legal entity is owned by shareholders and run by appointed officers and directors. The two main types of corporations are C Corporations and S Corporations.
C Corporation, sometimes referred to as a C Corp, is a legal entity that takes its name for the Internal Revenue Code (IRC) Subchapter C. C Corp is different from the other business entity because they are subject to double taxation. They pay corporate tax on business income and again when they pay out profits to shareholders.
The cost for a C Corp is higher than other business structures, but provides the strongest protection to its owners from personal liability. They also require more detailed record-keeping, processes, and reporting than other structures.
S Corporation, sometimes called S Corp, a legal entity prevents shareholders from the double-taxation that C Corp are subjected. An S Corp allows profits to go directly to shareholders' personal income without being subject to corporate tax rates, making S Corp a special type of corporate structure.
To be considered an S Corporation, you must file with two different entities, one with the IRS to receive S Corp status and the other is to register with your chosen state the article of incorporation form. There are two limitations on S Corps. They must limit shareholders to 100, and all must be U.S. citizens. S Corps follows similar required record-keeping, processes and reporting as C Corps.
Limited Liability Company (LLC), allows you to take advantage of both the corporation and partnership business structures benefits. LLCs, in most cases, protect you from personal liabilities. Your personal accounts, such as your house and car will not be included if your LLC faces lawsuits or bankruptcy.
LLC members are considered self-employed and are subject to pay self-employment tax contributions towards Medicare and Social Security. Unlike the corporation structure where members have independent life separate from its shareholders, some states may dissolve or will need to re-apply as an LLC when a new member joins or leaves.
How Do I Finance My Business?
There are many different ways to finance your business. How to get money for your business, guides you in obtaining the financial resources you will need. The five ways to get money for your business mentioned in the article are:
Your Own Funds

Family and Friends

Bank Loans

Credit Cards

Payday Loans
An article from Entrepreneur titled, "How to Start a Business Online," provides you with seven practical steps on starting your successful online business. Finding a need, filling that need, providing quality content, creating a business website, and establishing an expert reputation for yourself as a brand will ensure a successful sustainable online business.
Comments
comments