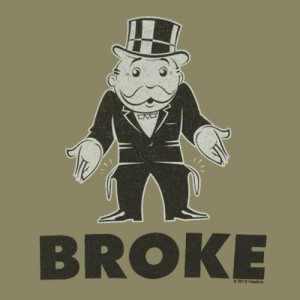 Have you ever been in a sticky situation, like being completely broke with only a few dollars in the bank account, having bills are due within the next day or so?
Or, right after being introduced to a business you know could mean the world of difference in your financial life, yet, you felt like you couldn't afford it…or that you were too broke to get started?
Are you sitting there shaking your head up and down in the affirmative?
My question to you then, what did you do about it?
You're Broke Today, Not Tomorrow
The biggest lie in life is to profess that you're broke, simply because you don't have much money in your bank account, or in your wallet or purse. Just because you're broke today, doesn't mean you'll always be that way.
Being broke is defined as "having completely run out of money."
No where in that definition does it define the word "broke" as being permanent! At times, as human being, we convince ourselves in believing that it is permanent. And because we think it's permanent, we start to doubt our abilities, which effects our self esteem.
Being broke is not permanent! We just ran out of something…and what do we do when we run out of something?
We go get more! If I run out of bread, I go to the grocery store and get some, because I know that grocery stores have that in stock, 24/7. If I run out of air while diving under water, I rise to the top and take a deep breath, because that's where the air is.
When you run out of money, don't call yourself broke. Just go get some more money!
This works just like getting a loaf of bread at the grocery store. You can just go take the bread, well, I guess you could, but the consequences might not come out in your favor. You have to exchange something for that bread…money! It works the same way with money. To get some more, all you have to do is exchange something for it.
The best way to get "un-broke" (or in other words, get more money)
Most of the world's population to getting out of their broke situation is to find another job, only because that's just what they're used to. Heck, finding a job is easy, and all you have to do to get money is trade your time for it!
Broke people have plenty of time! Right?
Well, that depends on your perspective. In my eyes, I only have 100 years or less of time, and that's not a whole lot.
Besides, there are problems with taking on another job to get yourself un-broke. First, you won't get your first paycheck for another two weeks, most likely. Second, what are you having to sacrifice for that second job? Probably the entire reason of life on earth, right?
My advice….steer clear of a second job.
Another way to get money, is to trade a service for it. We all know what this is! If you know how to design a website, you can design a website for someone. Simple stuff, right. So think….what do you know how to do well that other people need and want? If you have an idea, one of the best places to find a customer is on facebook. Find a yard sale group in your local area, join it, and start promoting your service.
If it's a good one, and people need it, they'll jump on board! At that moment, congrats! You're now an entrepreneur!
And finally, earn commissions. Sell other people's stuff. If your "service" bag is empty, earning commissions can be one of the most profitable ways to solve your "broke" issue.
The most profitable trick to this method, is to find something connected to a system that sells for you. We call this a funnel. It will create leverage. And when you mix making money and leverage, things get fun!
I'm part of an amazing opportunity with the Empower Network. It's an amazing system with a funnel that sells.
You can get started here for just $25. Almost everyone has $25!
In closing, if you're feeling a little broke, get your mind out of the gutter! You're broke today, not tomorrow. You just ran out of money. It's never the end of the world. Just get up and do something about it!
Comments
comments