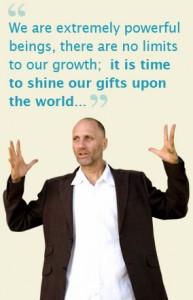 Yossi Ghinsberg has an amazing message. For those of you who follow this blog, my wife and I attended a conference in Puerto Rico last week that included Yossi as one of the speakers. The overall theme of this conference was "Exotic Adventures." So all three speakers at this event had accomplished some sort of tremendous adventure and have a story to tell.
Yossi Ghinsberg
Yossi has a pretty thick accent, and at first, I was a little worried that I was going to suffer through his presentation. He started out pretty slow but picked up the pace pretty quickly. As he spoke, he sucked his audience into his story by his passion and the dramatic use of his words. His story began as he entered the uncharted jungles of the Amazon. Shortly after entering the Amazon, tragedy struck a member of their camp, a division happened among them and he found himself alone, in the middle of the Amazon, fighting for his life. His story of survival was the turning point in his life and one that I will not soon forget.
Without telling you the entire presentation he gave, I will tell you a few points that really hit home with me.
Yossi made a reference to fear, and how so many people in this world are controlled by it. Fear of losing their job, fear of failure, fear of the unknown, fear of heights, fear of talking to a pretty woman, fear of success. It dictates the very decisions we make and for the most part, when faced with fear, most move in the opposite direction. Of course they would. If you see something you are afraid of, you try to avoid it, go around it or shy away from it. Yossi has a different point of view. Instead of running, "When fear arises, head to it. Confront it. Say thank you for showing me the way!" How much more would we be able to accomplish if we all lived by that philosophy? When faced with fear, confront it, because most likely, that's the way you should be going. Awesome!
"Our true power is revealed when we give it away…because our true purpose is to serve." This quote came when he was describing a point in time during his exile in the Amazon when times weren't so hopeful. He felt like dying and if I remember right, had just prayed to die. His was laying face down in the mud, his feet were shredded, he had no will to go on when all of the sudden he heard a voice. He looked to the side and saw a woman begging him to help her. Even though just moments before he had wanted to die, thinking all was lost, he jumped up and grabbed the woman by the hand and started moving towards the river. Well, the woman was not real. She was a vision, an imagination, hallucination or whatever you want to call it. But the principle here is….that when he had already given up on himself, without the will-power or strength to carry on, he still had strength enough to help someone else. "Our true purpose is to serve."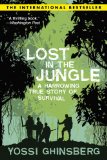 These are just a few points I wanted to cover. Look for a video of Yossi in tomorrows post. Well be talking about something you and I are very familiar with called the box. Very cool stuff! And if you have seen Yossi speak or have any of his material, I'd like to hear the effects of his story on your thoughts.

To learn more about Yossi Ghinsberg and his exotic adventure of survival in the Amazon, pick up your copy of his book by clicking on the image to the right!
Comments
comments