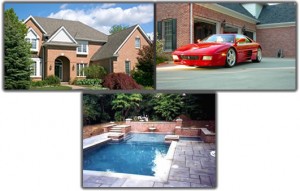 Everyone starts a home based business for their own reasons. For some it's for the nice home, the fancy cars, the gadgets and the nice clothes. For others it's for the time freedom. Some people may just want to start a home business to do something different than what they are currently doing or just to get away from their job. Every single individual has their own reason. This reason, is unique, and powerful and is the fuel behind their success. It is the reason they will either fail or succeed. If their desire to obtain this "reason" is strong enough, they will succeed.
The purpose of this post is not to educate you all on the will to succeed. It's to discuss the importance of having a reason, and knowing when you have obtained your reason.
To give you a quick example, our reason for starting a home based business initially was to make money. At least we thought that was the main reason. We had a mortgage staring at us in the face, bills that were piling up and a shortage of income to make all our ends meet. But once the money started coming in, we found out our true reason. We could have gotten a second job to make ends meet, but we were looking for so much more. We were looking for the lifestyle, the lifestyle that would allow us to spend more time together.
So many parents rarely see their children due to their work. They are not the primary influence in the lives of their children. After missing eight months out of the first year of my oldest daughters life, we made a decision to change. We weren't about to see our children grow up without us.
Now that I look at my life, I have everything I set out to get by starting my home business. Amy and I were sitting on the back porch, reflecting on some of our goals and thinking of the life we have created for ourselves. The youngest was down for a nap, and Amy brought up our main reason for getting started with this business opportunity. It was to bring Daddy home, to make the income to support our lifestyle and to use that income to travel the world and enjoy each other. We have obtained all that we came here for. Anything we do beyond that is extra and adds to our main reason.
Four years ago when we made the decision to get started, to leave the job and to create our new future, we really had no idea how sweet it would really be. Now that we are living it, it really is that sweet.
Living your reason, your ideal life, is not a difficult thing to do. It just involves making a big choice….and then following through with passionate consistent action. And trust me, it's a lot closer than you think…..and has always been within your grasp!
Comments
comments