Have you ever just sat and thought about being unique? Being different than everyone else around you? It's obvious that you're a unique person, with unique traits, abilities and characteristics, but that's not what I'm talking about.
The uniqueness I'm referring to is the kind defined by what you do every day, your habits.
The True Story of Life
I stumbled across an image that sums up my point. In this day and time, we live in an age of conformity, and for the bulk of the population in this world, that means joining the workforce.
Working a day job isn't necessarily a bad thing. Most people are lucky to even have a job, right? Well, that's because that's they way they feel, and think.
If they were to feel and think differently, what would happen?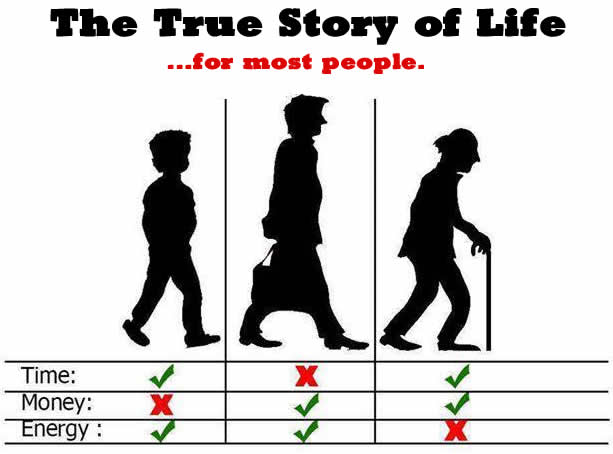 The image is attempting to describe the cycle of life pertaining to time, money and energy.
Are You Being Unique?
But it's only accurate for MOST people…the ones who choose to conform to the masses. I can agree with the child not having money, at least money that he earns. That's accurate. And yes, the older we get, the less energetic some of us may feel. I get that.
But the middle checklist is the one that can vary the most, depending on our desire to be unique. You see, it's obvious that the traditional thing to do is to get a job and work your life away until retirement. But by then, according to this picture, we won't have the energy to truly enjoy the time and money we have! And in today's society, many people are having to get two or even three jobs, just to make ends meet.
But that's all because they choose that.
Don't agree?
You see, I could choose that life, starting today. I could fill out a resume, submit some applications and go to work. And, if that job doesn't make me enough income to support my family, I could do it all over again and get another job. Then I'll fit the mold this image portrays. I'll successfully have no time at all.
Or, I could choose to start a business which has the capabilities to earn money without my direct involvement, allowing me more time freedom.
There's always a choice. Always.
And yes, there are business models in existence that can provide that. Even for the beginning entrepreneur. I'm in one.
So I edited the image a bit for you unique thinkers. Instead of the typical cycle of life above, which most people enjoy….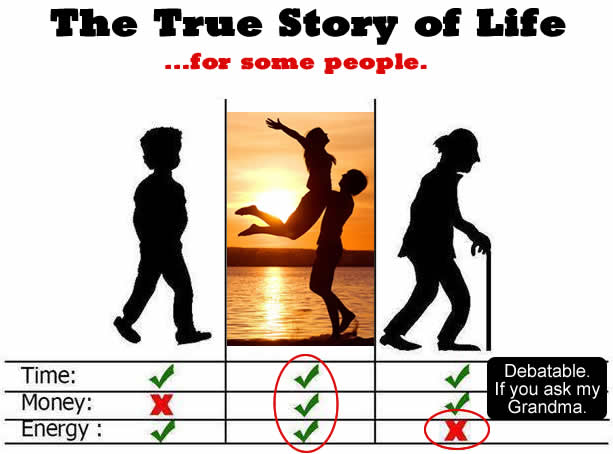 There are ways to be unique. There are ways, even while you're raising your family, to have time and money. We don't have to choose between them. We just have to choose a course which allows us to have both, instead of conforming to the traditional way of doing things.
Never fall into the poverty mindset, the one that tells you that you have to settle for whatever comes your way. Heck, there are plenty of people around you that will tell you that. You don't need to tell yourself.
If you have the desire to walk a different path than everyone around you, do it. Start today, and you'll live a more fulfilling life. Give yourself three check marks down the middle section of your life.
Comments
comments