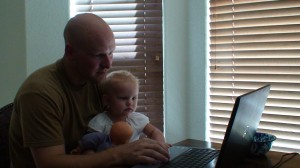 Life is pretty simple really. When you break things down, it's the simple things in life that truly make people happy. Time is a very simple thing, it exists all around us, yet hardly anybody has it. Those who do are hopefully grateful for it. Money is very simple as well. It is only worth the value given to it and is a tool used for leverage. You can't build a house out of it, you can't wear it or eat it. It is used for a greater purpose, to show value. The level of happiness in ones life directly depends on the simplicity of it, or the simple things in it.
It's not only what you do but also how you do it that determines your level of happiness. And the thing that determines your level of happiness is your lifestyle. If you work more than you want, you're unhappy. If you don't make enough money, you're unhappy. If you make a ton of money, yet have no time, you're unhappy. You see, it's what you do and how you do it that determines your level of happiness.
My role as a husband and a father is very black and white.
It's the three P's of fatherhood:
Provide
Preside
Protect
If I'm not fulfilling one of those three P's, I am not happy because my family isn't happy. There are fathers all around the world that barely see their families because of the way they decide to fulfill the three P's. Fathers in the Military are shipped out for 6 months or more at a time. They do it to provide for their families. Fathers in corporate sales are shipped all over the country for their company being gone days and weeks at a time. They do this to provide for their families. Fathers and mothers leave their children in daycare to provide. All of these people are noble and responsible and are doing the best they know how. Leaving the home for long periods of time is the way they know, so they continue to choose that way.
Most people just don't know how to provide for their families, without being absent all the time. There are ways, tons of ways for you, the working father and mother, to stay at home and make a great living. However it involves a choice to do it in a different way instead of the traditional way of leaving the home. Times have changed. Take advantage of what the world has to offer. The world has made it so easy for you to still fulfill the first of the three P's, provide, while at home. I choose to work from home and by doing so, I am able to better fulfill the other two P's by being completely present in the lives of those I care for most.
So you see, it's just a choice really. Everyday you leave the home to provide for your family, you are choosing to do so. One day, when you are sick and tired of being gone, you will start to choose differently. You will choose to open your eyes to that "different" way of doing things. Once that happens, look forward to seeing your life through a brand new pair of eyes because it will be nothing like the life you know right now. That is, if you are still choosing to provide by being absent.
Comments
comments