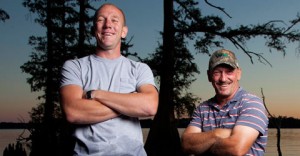 I don't watch much television but occasionally, there's a show that will catch my eye and become impossible for me to not watch it. That show right now is the History Channels "The Swamp People." I am so into it, I created a few swamp people shirts for my family and decided to offer them to the public as well. The things they say are catchy!
Half the time it's nearly impossible to understand what they're saying because they have such a thick accent, but it's fun to see the unique way they make their living. At times, they seem like they're so happy that I just want to pack up and go hang out in the Bayou for a while.
On to my point. During one of the recent episodes, Troy was being interviewed. I believe it was right after they had experienced success for that day after having a streak of bad luck catching gators. Troy said something that should be common sense to everyone and I believe is his secret recipe to his success.
He said something along the lines of, "When times get hard, you just do your job….and you work harder than before."
How many times have you seen others jump from one opportunity to the next because things get tough? I've seen it time and time again and it's a real problem in the home based business or network marketing industry. When a shiny new business comes along and the current one isn't doing as well,  jumping ship seems like the easiest solution. The grass is always greener on the other side, right?
Jumping ship, in most cases, isn't but a temporary solution. To create the consistency of income most people look for within the home business industry, there has to be some loyalty and a little Bayou gumption. Instead of bailing, just do your job. Do what you know how to do best and do it harder than before. The results will come and so will the consistency you're looking for.
We all know the popular phrase, "Successful people make decisions quickly and change that decision very slowly." Translation…..do your research, choose a company, do your job and do it harder, and you'll get the results you're looking for.
Comments
comments