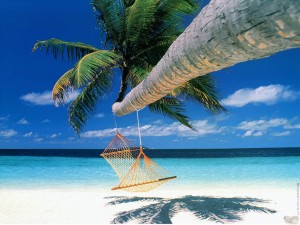 We have all heard of the people that say their biggest desire in life is to live "The Simple Life." Not much responsibility, worry or care, just simply them and what they love the most. Out of all they have experienced in life, their truest desire is to live simple, to get away from the hustle and bustle of the world.  That's the simple life!
Living the Simple Life
I think that living "the simple life" has different meanings for different people. I have personally had conversations with people that say their idea of a simple life is living like a hermit in the mountains without clocks, a schedule or even a wife. Just them, nature, maybe a dog and no where to be. The more common idea of living the simple life is to own a home in a suburb somewhere, have a few kids, a mortgage, a dog and a white picket fence.
I just asked my wife what her idea of a simple life would be and she said, "My idea of a simple life would be to live on the beach, in a hut with clothes made out of hemp, bathe in the ocean and just lay out all day!" I think her idea of the simple life wins the golden nugget for today! I wouldn't think that hemp clothes would be that comfortable but obviously she is a beach bum at heart!
The word simple means, easy or not complicated. So the simple life is plainly a life that is easy, or not complicated. It is a life without much worry or stress, a life of simplicity. Although life can be complicated by nature, it is our choices that make it that way. We create our lifestyle. We either are the cause of our simple life or the cause of our miserable and complicated life.
My idea of the simple life involves a few key words. It involves financial freedom, so that the worries of bills, mortgages, rent, basic necessities of life, gas for my car or anything else that requires money will not be in my simple life. It involves complete time freedom. I mean the ability to choose for myself the schedule of the day, which is never set in stone and always subject to change. It involves service, the ability to give, teach and inspire those in need. It involves pursuing my hobbies and passions. It involves my family right along side me every step of the way.
That's the simple life and in order to ensure that I have all those key elements in place, I have got to make key decisions right now that lead me closer to the simple life and the more I think about it, I am mostly there!
Know this, 9 out of 10 people who read this post will statistically NEVER reach their ideal lifestyle. They will never live their version of the simple life. Believe it or not but it's true! Most people grow old wishing they had done things differently. They wish that had purchased that land or they wish they would have started that business. Your life can and will be just as you plan it to be if you choose to do so starting today. So tell me, are you hanging out with the nine……or are you the one?
Comments
comments