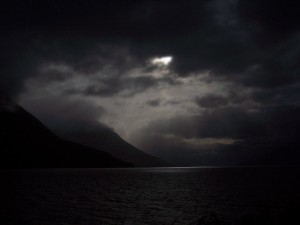 This is going to be a topic of common sense that many of you are already aware of. But quite frankly, so many people lack common sense. What seems clear to one might be completely confusing to another.
Many of the terms we use in the English language are simply descriptions for the absence of something or the lack of something. These "terms" are ways to describe things that exist but are not tangible, yet, at times you can see them and feel them and at times these "terms", if allowed to, can effect your thoughts. Now we all know that thoughts are energy and will eventually turn into action should the thought remain consistently.
Here's an example: Darkness! It exists. You can see it and one might say that the darkness was so thick you could feel it. I think we would all agree that darkness can definitely effect ones thoughts and actions. I know full grown adults that still will not go out in the dark by themselves to take out the trash. It is something that generates that state if mind that we all know too well, it's called fear. Darkness restricts movement, vision and ones ability to act normally. So what is darkness? Darkness is simply a term used to describe the absence of light. Light is the measurable factor here. Without it, there is darkness.
Another example: Debt! Debt definitely exists. You can see it in your life and we know that a significant amount of debt can effect ones thoughts and actions. In speaking with people about starting a home business, their main goal is to get out of debt. Debt instills fear in people. Fear of losing their home or not being able to make their bills. If it is bad debt, it restricts people in their ability to live a happy and fulfilled life. But what is debt? Debt is simply the absence of cash flow, or money! With money, debt doesn't exist.
So here's my point: A goal to get out of debt is a goal trying to get out of nothing. The real goal is to make money. So set that goal to the amount you desire. Getting out of debt is part of the process. Setting a goal to get out of debt is like saying, "Can you please take away the darkness?" We don't say that! We just say, "Hey, can you turn on the lights?" The darkness goes away as part of the process.
You can't take away the darkness without the proper actions and tools. You are required to get your butt up, walk to the switch, flip the switch on and have previously paid your electric bill. It works the same way with debt. Simply wanting to get out of debt won't work. You've got to take the appropriate actions with the correct tools in order to fix your status of being in the "Absense of Money!"
If I can teach you anything, learn this one thing…debt is only the lack of money in your life. So instead of focusing on NOTHING (debt), focus on something. Focus on the things you want AFTER you have created the income that will, along the process, relieve you of the "absence of money."
Comments
comments