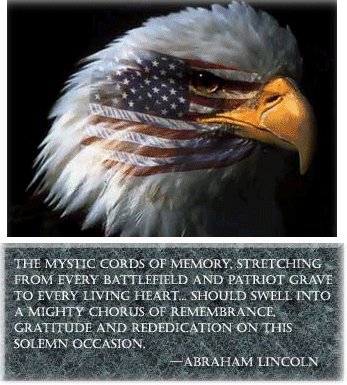 As Veterans Day passes by, I'd like to take this opportunity to thank all of those who have made sacrifices in the service of our country. And I'd like to specifically thank the families of those veterans who also made similar sacrifices. Although you weren't primarily in harms way, your loved ones were. I know, from experience, the hardships placed on the families of those serving in the military. So thank you.
Thanks to All Veterans on Veterans Day
A veteran has many different definitions. Some say that a true veteran is someone who has seen combat, or served in the military during war time. Others say that your veteran status depends on your time served in active duty. I say, you are a veteran if you served honorably in the military for the term you signed up for. In this day and age, small or large, there's always a war in progress and whether you've seen combat or not, you were willing to serve.
I joined the Army National Guard when I was at the ripe old age of 23. My wife was expecting our first child when I took the ASVAB test in Ft. Huachuca, here in Arizona. Although I was sitting next to others who were given the option of becoming either a cook or a truck driver, I was told that I could do pretty much whatever I wanted. They told me I could go into intelligence or communications, but I opted into aviation. My goal was to become a helicopter pilot.
Shortly after I joined, the Twin Towers tumbled to the ground as a result of the 9/11 terrorist attacks on our country. I was both angry and terrified at the same time because I didn't now what that meant for my families future. All I knew was that someone had to pay for the crimes they just committed. At that point, I wasn't sure if my unit was going to be activated for active duty. Only time would tell.
So, from that point forward, every Veterans Day, I receive "Thanks" from those in my church congregations and around the community. To this day, my picture hangs in our local Walmart, next to hundreds of others who have served from our small community in the Gila Valley.
Sometimes I don't feel like I am not worthy to be called a veteran. My Grandpa served during the Korean War and spent time in actual combat. I've heard stories about the things he had to experience over there and because of what he experienced, his family suffered…and so did he. He answered the call to serve his country and made that sacrifice. While I was in the military, I know that if I was called upon, I would have answered the call as well, as would many of you.
So once again, thanks to all veterans on Veterans Day. You will be remembered and will always have a place in the history of this great nation we call the U.S.A.
Comments
comments