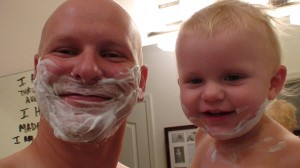 Stay at home Dad time is a very special time. It is the time that most Dads and quite a few Moms miss out on. Stay at home Dad time starts from the moment you wake up, or your kids wake you up, until around 5:30 or 6pm. From then on until the kids are in bed is "regular Dad" time. I make sure my kids are in bed at around 8 – 8:30 pm, so that leaves about two solid hours of time. In my opinion, NOT enough time for regular Dad time!
And yes, being a stay at home Dad means you are at home or with your family all day long! To me, that's the whole point. It is to be there and have the experiences that Mom usually tells Dad about when he gets home, like: "Macy took her first step today, I wish you were here to see it!" There are certain things that I would much rather experience first hand. My family is one of them.
Yesterday, I asked this question to my Facebook friends: "If you were a stay at home Dad, what would you do today?" One lady got upset because I didn't ask about stay at home moms, another was grateful her husband isn't home all day right now and one guy told me that he would be getting "thrown up on and (with more profanity) pooped on. Hi ho, Hi ho it's off to work I go." It's amazing to see the different perspectives and priorities others have in their lives. For the most part, it was a negative perspective.
Sure, anyone can be a stay at home Dad, especially if you have yourself a "sugar Momma" right? She makes the money and you stay at home with the kids. I sure hope you can live with yourself! It's one thing to have the ability to stay at home and another to have the ability to be a stay at home Dad making CEO level income.
So right now, two of my girls are in school, my one year old is napping and I am working. Instead of my girls coming home from school and having to wait for their Dad to get home from work, I am here at home eagerly waiting for my kids to get home from school. It is a very good switch.
I wake up every morning on my terms, not on a time clocks terms or an employers terms, MY terms. If you can understand what it would be like to have every day as a Saturday, do it. Except, when you want to go to the pool or to a popular spot, there's nobody else there. They all have things going on and here it is in the middle of the week for you. It's so refreshing.
The purpose of writing this post is not to brag in any way. It's to educate you of a completely different lifestyle that most people will never realize exists. It just involves stepping out of the norm, or what everyone else expects you to be doing for a living, and into the creative. That's all it takes!
Comments
comments