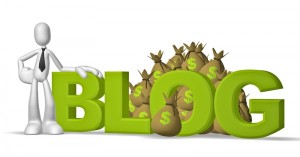 If you've been looking around the internet  for ways to make money, you've probably noticed that most of the websites you've stumbled across are blogs! Or at least have a blog integrated into the site somewhere. And if you've been searching for longer than a day, you've also probably noticed how much money some of those bloggers are making!
So here's the question: What does it truly take to become a successful blogger?
How do you take a blog and turn it into a six figure residual income?
Heck, most of you probably don't even know what hosting is, how to point a domain name or what wordpress is. If you do, then you know how simple it can be when everything is running smoothly, and also how frustrating it can be when it's not.
For the blogging newbies, here's a quick breakdown of the costs involved in setting up a blog:
Hosting – For a decent hosting plan, expect to pay between $15 to $30 per month. However, if the traffic of to website is substantial, a you may eventually need a virtual or dedicated server, which raises your monthly cost to between $50 to $500 per month or more.
Domain – Your domain name is going to be the least of your headaches, at least as far as cost goes. You can pick up a dot com for between $12 and $15. If you don't know what you're doing, pointing domain names, creating and pointing sub-domains and messing with DNS can get pretty sticky. So if you're planning on purchasing a domain from one company and your hosting from another, make sure you know what you're doing…or at least have help.
Design – When I first got started in the home business arena, I had no idea how to setup a website, so I had a friend, who knew a friend who designed great wordpress websites. I forked out $1200 initially, for that design. And that was at a considerable discount, friend of a friend type stuff. Typically, for a completely custom and original design, you're looking at between $2,500 and $10,000.
Marketing – Before I knew anything about SEO, CPC or banner advertising, I hired an SEO company to rank my website higher in the search listings. Again, this was a friend discount, and I paid $2,500 per month for it. Given, I was going after some competitive key phrases, like "home based business."
Webmaster – Once your site us up and running, you'll need ongoing maintenance and will probably want to create new pages and features as you go. Webmasters pay per job or by the hour. When I was in the webmaster business, I was charging $60/hour for my services….and I think I was on the low end of the market.
And the costs can go on and on, depending on what your vision is for your site. And this is just a breakdown of what I experienced for my site, which isn't nearly as popular as many others on the web.
For example, I am a frequent reader and subscriber to Niel Patel's blog, Quicksprout.com. He recently published a blog post, "11 things I wish I knew before I started my first blog." It's a great read. In his post he shared what he spends on a monthly basis on Quicksprout, "it's very rare that I spend less than $20,000 a month on Quick Sprout."
Now, Niel is a businessman who makes millions in his chosen profession. He monetizes his website through product development and offering his services. I'm quite certain his $20,000 per month investment into his site pays off, but most beginners aren't going to have that type of a budget to play around with.
Setting up a blog is the easy part, if you have money, but monetizing a blog is the tricky part.
Without your own product or service, you're left to the typical way to monetize your blog, such as Google adsense, affiliate programs and writing sponsored reviews, which is a competitive market.
So without having to develop your own product, pay for setting up your own blog, mess with Google Adsense or fork out $20,000 per month in development and marketing, how does one get above the six figure income threshold.
Without letting the cat out of the bag, by entering your email address into the form below this blog post, you'll learn how you can still earn a multiple six figure income starting with a $25 investment.
So enter your email address and find out how it's done!
Comments
comments