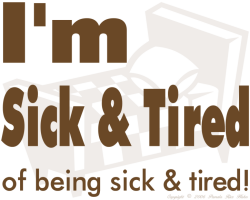 Simple question: What will it take for you to start living the life you know you deserve? You know, it's funny to me to see some of the people that contact me regarding my business, because when their circumstance, their job or their business is not going smoothly, they are eager to make a change. But just as soon as their job has one good day, they are willing to throw it all away and stay in their comfort zone. Even if it has had a past experience of going south frequently. It just doesn't matter any more because everything is fine now. Forget about what will most likely happen again probably in the very near future, they're fine right now. Where's the vision in that? Where's the fulfillment in living a life that you despise 99.9% of the time because it is comfortable or predictable?
So what does it take for someone like that to change what they are doing and do something different? I can tell you this much, I can't make people change their lives. I can't take their call, hear how poorly things are going, tell them to change it and have them do exactly as I say. To tell you the truth, I won't do that. I am not here to live their life for them.
The only way that someone will change, is when they are not only sick and tired of what they are going through, but when they are sick and tired of being sick and tired. That'd the breaking point. From that point, there is no choice, because the only option for that person now is to change. So they take initiative, nearly being compelled by the natural order of things.
Now, true success and sense of accomplishment comes when someone decides to change before they get sick and tired of being sick and tired. Why? By the time that person reaches the point of having no choice, of being sick and tired, their ability to think positively is far gone. Their ability to be proactive has been forced upon them. Their financial resources are in the negative. All of these things are now acting against them along side the thing that made their lives so miserable in the first place. It becomes nearly impossible to move forward with any kind of momentum at that point. Then again, if that person is a fighter, when backed into a corner may lash out with all the energy and ambition in the world. But most people, will just submit and accept their failure to act by staying sick and tired.
So act before it gets too late to act. Act when you are first prompted to do so. Don't sit around waiting for things to get worse, because you know they will, especially  if they have already. Part of taking control of your life is doing it while you still have a choice!
Comments
comments