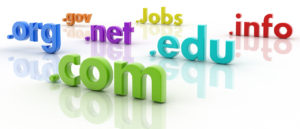 The amount of work that you will need to do in order to get your online business off the ground will be quite substantial. You should prepare yourself for many hours of hard work. One of the key details that you will need to do before your site can launch is to get your domain name set up. People will not be able to get to your site without a domain name. It is the key to people finding your online business. There are a few steps to the domain name registration process. Here is what you will need to do.
1. Think about some domain name possibilities.
Get a group of people together and ask them to think about as many ideas as they can to be used for your domain name. It is very common in the business world for a person to make their domain name identical to their business name. However, there is the possibility that the domain name you want has already been registered by a person or a company. If this is the case, you will need to go down the list of alternative names that you have created to find out which of these is still available.
2. Contact a domain name registrar.
The next step in the process of registering a domain name is to find out which names are still available. This will require you to get in touch with one of the many domain name registrars that can be found online. You can then check the status of as many names as you want. You might still be able to secure the rights to a domain name that has already be registered by another person or company. In some cases, the current owner might be willing to sell you the domain name for the right price. You can get the owner's contact details from the registrar. You might want to consider contacting the current owner and seeing if he or she will negotiate a price with you. You have nothing to lose by giving this a try if the domain name is very important to you.
3. Register your domain name.
You will now need to register the domain name that you have chosen. You will also need to have the registration rights to the domain name transferred to you if it has been purchased from another person. You need to be aware that registering a domain name does not mean that you own the rights to it permanently. Basically, you will be renting the domain name. You will be required to renew the domain name every year for a fee. It would be wise to have the registrar alert you that your registration is coming to an end. This will prevent you from accidentally forgetting to renew it. Needless to say, this would be a disaster. Your domain name could be grabbed by anyone if you forget to renew your registration. This would be very bad for your online business.
Comments
comments