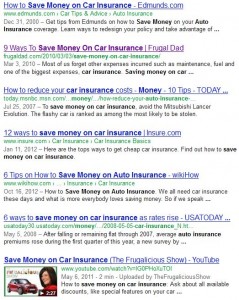 Okay, so here's proof that Google has lost it's mind as far as how they index websites, and which websites they're giving the most credit to. For example, if you type in the words, "save money on car insurance," what results would you expect to see?
As for me, I would assume that I'd see Geico or Progressive, followed by several other car insurance companies. In fact, before seeing the results, I was absolutely positive that they would be dominating the entire first page. If not them, then websites like bestautoinsurance.net, which allows you to search for the best rates.
Instead, the first seven listings are as follows:
www.edmunds.com › Car Tips & Advice › Auto Insurance
frugaldad.com/2010/03/03/save–money-on-car–insurance/
today.msnbc.msn.com/…money/…/how-reduce-your-auto–insurance-…
www.insure.com › Car Insurance › Car Insurance Basics
www.wikihow.com › … › Insurance › Car Insurance
usatoday30.usatoday.com/money/…/2008-05-05-car–insurance_N.ht…
www.youtube.com/watch?v=IG0PHoXuTOI – The Frugalicious Show
Coming in at number eight is finally Progressive, then Yahoo finance and lastly 21st.
It's shocking to me that the top six results are articles, or blog posts. Instead of actually listing a company that sells car insurance and can actually save you money on car insurance, it lists articles that give you tips, or advice. And who the heck is "Frugal Dad?"
Save Money on Car Insurance
Lesson Learned! It just goes to show how important blogging really is. You would think it impossible to compete for first page Google ranking against the car insurance giants of the world. However, it would seem that blog posts, with user friendly information, are getting the most credit when it comes to saving money on car insurance.
So for those of you who own a business website which does not have a blog attached to it, you'd better rethink your online marketing strategy. Google gives precedence to sites that are constantly being updated, or blogged on.
Comments
comments