This is a Sponsored post written by me on behalf of Vipre. All opinions are 100% mine.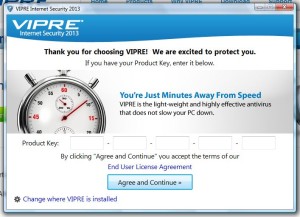 As an internet entrepreneur, so many things can go wrong when your computer is infected with some sort of malware, or virus. When you're dealing with sensitive information such as merchant accounts, FTP connections and sensitive emails, a malicious program running behind the scenes on your computer can be detrimental.
So if you're an online entrepreneur and you don't have an internet security program on your computer, you might want to consider getting one installed.
Just a quick example, one of my business ventures is a webmaster business. We offer website design, editing and maintenance of websites for business owners who don't want to deal with those sorts of things. We frequently have to connect to servers around the world using an FTP connection, which enables us to transfer and edit files on those servers. There are programs which exist that can install themselves onto our computers, without our knowledge, which can inject unwanted code onto the servers we connect to.
This has happened to us before, and it was a nightmare.
With that said, I had been using a free program called Spybot to protect my computer, and to my knowledge, it had been doing a pretty good job. But recently, I started noticing random changes on my computer….changes I didn't personally make.
So I downloaded VIPRE Internet Security, which was extremely simple to download and install. After the first scan, I found over twenty issues on my computer which Spybot hadn't picked up on. And one thing I really like about Vipre is the internet security. It monitors everything from emails to websites you visit. It picks up on things you and I would casually overlook, which is probably why my computer was infected.
Needless to say, my computer is running smoothly. I encourage you to check out Vipre when choosing an internet security software. You can find out more at vipreantivirus.com.
Comments
comments