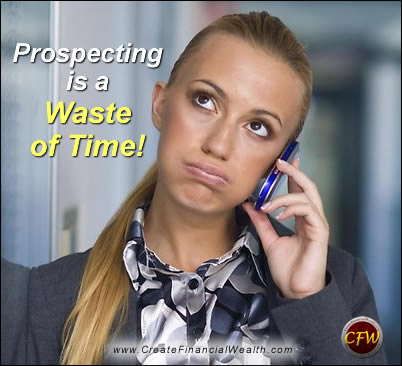 I can't tell you how relieved I am right now. Beginning in 2005, I started my career online as a Network Marketer and joined one of the fastest growing top tier direct sales companies. My wife and I spent hours and hours during the day, evening and sometimes at night, prospecting. We attended trainings, purchased audio courses and even spent hours and hours prospecting each other, for practice.
Little did I know that prospecting is a waste of time!
Yes, I said it. Prospecting is a waste of time for anyone looking to create real leverage in their business. Think about it. What is real leverage? Leverage in business is and has always been about time and cash flow. The more money you can make in the least amount of time is true leverage.
I know, that if a prospecting call takes ten to twenty minutes to complete, if I worked ten hours straight, that will only allow me to take around forty calls a day. Even with the highest priced product and best paying commission in the world, I would still only be able to make forty calls in a day, without eating anything!
And those of you who are experienced with prospecting, you and I both know that some prospecting calls last ten minutes, while others can last more than thirty.
I felt like a glorified telemarketer when I was prospecting. And the only thing that made me "glorified" was my income, because most telemarketers make around $8 to $10 an hour.
Let Me Explain Myself.
The reason I feel that prospecting is a waste of time, is because I have experienced something better. Over the past several years, I have experienced true leverage, the kind of leverage that isn't dependent on my actions during the day. This is the kind of leverage that adds dollars to my bank account regardless of whether or not I decide to pick up the phone that day.
If I didn't know any better, I'd still have my phone glued to my ear while at my children's activities, during their doctor appointments, while at home in my office, while driving to the grocery store and everywhere else I've ever been. And don't rule out the bathroom either! I've received calls there as well. Now, I didn't answer the phone, but we've all thought about it. You're lying if you haven't!
When my kids were being loud, it got old telling them to leave the room all the time. They started asking my wife why I was always on the phone and when I would have time to spend with them. The "home based business lifestyle" wasn't all it was chalked up to be with prospecting involved, at least that part wasn't.
So yes, prospecting is a waste of time, because you don't need it to make a lot of money. In fact, you shouldn't want to call every single customer. You should want a customer that is already prepared to buy. You should want a customer that doesn't require a pep talk in order to make a decision in their life to get started in a business such as yours.
I recall having conversations with my wife about this very thing. I kept telling her things like, "Man, I just want a business that makes money without ever having to speak with someone," and "I just want people to click on something, and I'll get paid." So you can see why I've worked with Google Adsense in the past.
It feels nice to have found such a business.
The Good Part about Prospecting
I can't completely badmouth prospecting because there were a few things I did gain from it. I gained a better understanding of excuses, resolving concerns and building connections. I learned how to be bold in my communication and even experienced what it would be like to be a phone salesman, because that's what I really was. I also learned a great deal about international calling and time zones.
Now don't get me wrong. In order to build a successful team, you'll still be required to have phone conversations, build relationships and offer some mentoring and advice. So don't think you can completely throw your phone in the garbage. You've still got some conversations to have in the future.
However, in a business model with the right leverage, you won't have to do ANY prospecting, convincing or selling. If you're already involved in a business like that, let me challenge you on that. Put your business model up against mine and we'll see who's wins. I'm up for it.
Or….if you've been looking for that business model, look no more. Fill out one of the forms on this site and you'll be directed to a free video that explains it all.
Comments
comments