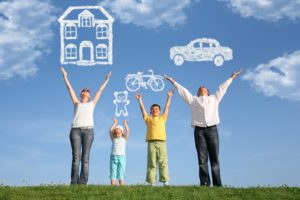 As your family grows and evolves, chances are your budget will, too. While you may not necessarily see an increase in income, you will certainly see your needs change as kids grow up. One of the key elements of a successful budget is flexibility, and this becomes an even more essential quality as time goes on. If you want to continue saving money and keeping your family on track, it's a good idea to start planning for new expenses that will eventually arrive. Preparedness is the first step to ensuring you don't get derailed by them. Your budget should be designed to adapt to changes and meet your family's collective needs. In order to ensure it accomplishes this, read on for tips that will help you plan. Understanding what to expect will help you incorporate it into your finances and continue saving money like you always have. A shift in priorities isn't an obstacle.
Starting Thinking About College
It's never too soon to start thinking about college and saving for your kids' tuition. Experts agree that the sooner you get started on a college fund, the better off your kids will be when they are about to graduate. If you haven't made it a priority yet, though, don't fret. It's also never too late to start. Any contribution you can make to tuition costs will surely be welcome, so start now by setting aside a specific amount each month in a savings account. Prioritizing this will be a worthwhile investment, and it will show how much you care.
Consider the Cost of Teens Driving
Around the time you are thinking about college, you are also likely to be faced with a teen preparing to earn their drivers' license. This can be an exciting and daunting prospect, but it's an important part of their development of independence and responsibility. In addition to your parental concerns, you may have financial concerns about this new part of your lives. Insurance rates for teen drivers are astronomical compared to policies for adults. The good news is that you can learn more here about ways to cut down on that cost can minimize its strain on your budget.
Build in Allowance for Other New Expenses
Insurance is an expected expense, which you can learn more here about managing, but there will always be unexpected expenses that come with parenting kids and teens. The likelihood of these appearing may even become more likely as your kids mature. In order to avoid the impact of a surprise bill, be proactive and fit an emergency fund into your budget. If and when disaster strikes, you'll certainly be glad you did. Though it may not seem like much, even $20 per month will add up quickly and provide a nice cushion when you need it the most. There are lots of ways you can take control of your family's finance in the face of shifting expenses and demands. These tips are just a few ways to get started and keep the budget under control. For more ideas, look at your monthly money plan and find ways to adapt proactively.
Comments
comments