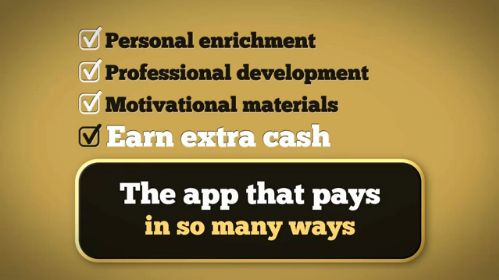 Occasionally I find opportunities that are almost completely hands off, very inexpensive, but can turn out to be real profitable over time…so ACT FAST if you want in on this one. It's a personal development mobile app and income opportunity from iLA, Inspired Living App.
My primary business is with the Empower Network and is my main focus. But if you've ever wanted to throw $10 bucks a month and something just to see what happens, this is it! A La Carte style! It's a way to invest in a great idea from the beginning and profit from it later. And from what I've seen, the app should be pretty great.
The Personal Development App, iLA – The Inspired Living Application
iLA, The Inspired Living Application, is a one of a kind, mobile application that makes it possible for the average, every day person, to profit from the exploding mobile application industry. The iLA application delivers a high quality, professionally produced, personal development video to your mobile device on a weekly basis.
At the time this post was published, iLA hasn't even reached pre-launch yet and already has over 2000 people involved! It's expecting to see over 500,000 within 6 months, which, if you're in early, that means thousands of residual income every month. This thing is going to spread like wildfire.
If you are a compensation plan guru, it's a forced 3×7 matrix. Basically put…the sooner you get in, the better.
There is no sponsoring requirement to earn in the matrix, but there are matching 10%, 20% and 40% bonuses for those that sponsor 3, 6 or 10 people. This is pretty easy to do.
So what do you have to lose? $10 a month for 6 months? I'd spend $60 to see if I could make a few thousand on a monthly basis, any day! If anything, you spent less than a hundred bucks over a period of six months and received a bunch of great content.
But I don't think that will be the outcome. You have nothing to lose and everything to gain! The network marketing industry has yet to see a mobile app company. This will be the first of its kind.
Visit http://www.ilivingapp.com/davidallred to get started.
Enjoy the Inspired Living App video…

Comments
comments