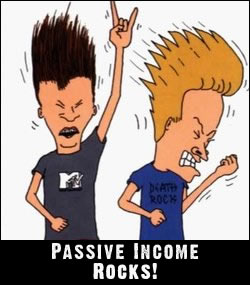 The longer I'm involved in the network marketing industry, the more I realize just how much passive income rocks!
There's nothing like sitting down for dinner and receiving an email stating that you've just made $1,000 from the efforts of others, or waking up in the morning to a $100 raise in your monthly income. I can't quite put a pin on it, but for some reason, I love having money deposited directly into my bank account without having to personally put in the work it took to make those extra funds.
So Yes, Passive Income Rocks!
The first home based business I joined was a top-tier, direct sales company. Which basically means, the products were a little more pricey! The compensation plan was a 2-up, which is where the new distributor passes the commission from their first two sales up to their enroller. The concept was good, but due to the higher cost of the product, and the lack of motivation in the new distributor, those pass up sales weren't received very often.
I'll have to do a comparison between compensation plans on a future blog post.
That top-tier company was my first exposure to receiving passive income, which is making money without having to be directly involved in the process of generating it. And since then, I'm addicted.
Most people in the world have a passive income stream of $0
It's no surprise, but most people in this world have a passive income stream of zero, and for obvious reasons. Most people have jobs and are paid in trade for the labor they provide. If they don't provide the labor, they don't receive a paycheck. Common sense, right.
Although there are some positions which benefit from a type of passive income, I've never seen it flow as freely as it does in the home business industry.
How does your life change with Passive Income?
You have to ask yourself the question of, how would your life be different with a stream of passive income? What would an extra $1,000 or even $5,000 a month do for your lifestyle? Would you still be working your job or less lucrative, more time consuming business?
I'm willing to bet you wouldn't!
True and massive passive income  in my business comes as a direct result of building my team. If my team is making money, I'll receive more passive income. So the more I assist and inspire, the more money I make. That's they way this works.
I mean, sure, I could refer a million people to my opportunity that never make a dime. I'd make the upfront, or immediate income, but nothing after that.
True leverage and financial freedom is cash flow, and in my business, most of that cash flow is in passive income.
I recorded a video, showing proof that this business works, and what receiving passive income looks like in this business. Check it out, then fill in your email address in the author box below to learn how you can start building your passive income today!
http://www.youtube.com/watch?v=iGvPjjLo5PM
Comments
comments