Last week my wife and I dropped the kids off at the parents house and took off to the tropical island of Puerto Rico! We had an absolute blast and with this being our second visit to the island, we appreciated it even that much more. The weather was perfect and the resort we stayed at was top notch. We stayed at the El Conquistador in Fajardo in the Las Casitas section of the resort. Our room was a one bedroom with a living area and kitchen. It had a patio that overlooked the ocean from up high on the tropical ocean side cliff. The view was inspiring!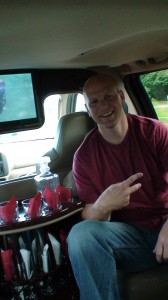 So while were were there, our days looked like this:
Saturday – We arrived at the San Juan airport and were greeted by our transportation to the resort by a woman holding a sign with our name on it. We identified our luggage and didn't have to touch it from that point on. We had a Ford Excursion limo pick us up for the hour long ride to the El Conquistador resort in Fajardo. We ate lunch on a balcony that overlooked the ocean with other self-made millionaires and multiple 6-figure earners in my business opportunity. We hung out at the pool most of that day, just soaking up the sun. That night we went kayaking through a jungle channel which contained Bio-luminescent micro plankton.(I'll tell you more about that later! Awesome!) After kayaking we hung out in the hot tub until midnight right on our balcony.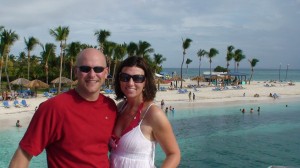 Sunday – We paid a visit to Palamino Island just off the coast of the resort. There I snorkeled while Amy soaked up the sun as she normally does. Later that night we had a catered dinner in one of the top steak restaurants in the country called the Strip House which overlooked the channel and cove we kayaked to on Saturday night. This dinner was followed by a small get-together for leaders in my business called "The Repeaters party."
Monday – We went hiking through the Puerto Rican Rain Forest and guess what….we got rained on! Go figure. The rain forest was amazing. Look for some video footage a little later on. Monday night we attended a welcome reception to the event we were there to attend. We ate buffet style and were entertained by music and awesome company.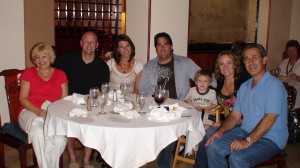 Tuesday – Yossi Ghinsberg was our first speaker of the conference. If you have never heard Yossi speak, do it. He is amazing. Following Yossi we heard from Steve Donahue and his uncharted journey across the desert. That night was pretty eventful. We went out to eat with Tony and Jessica Rush and Roger and Suzanne Curwin. Tuesday was the 13th of October, my birthday. The day I turned 33 years old I also broke my tooth on the wrapped duck! Later that night we watched the a new documentary that is soon to be released by our company featuring Michael Jr.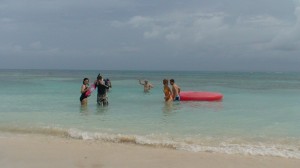 Wednesday – We heard from our final speaker, Neal Petersen, on Wednesday morning. He was great as well. More on him coming in my future posts. We spent our entire afternoon on Palamino Island once again where Danny Hawman and I snorkeled to a separate island approximately 100 yds x 50 yds in size. It was gorgeous! That night we attended a black tie gala to conclude the conference. The steak melted in your mouth..it was perfect. Amy and I spent much of the night taking pictures of ourselves making goofy faces with random cameras we found laying around. Fun stuff. We danced the night away to a band that was the best I have seen in a long time. After which we soaked it up on our balcony in the hot tub. What a great way to close out the event.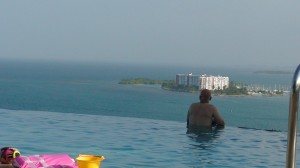 Thursday – Our car came to pick us up at 5:50 am, just when the sun was rising across the ocean. Our room faced the east so as soon as you walk out the door….there it was! Amazing! And I tell you what…the best place to ride is in the back of a nice car! Our trip to the airport was just as nice as our trip to the resort.
So that's it. That was our experience in Puerto Rico. It was amazing, life changing and inspiring and at this very moment, I am going through some withdrawals, wanting to go back. Aside from me breaking my tooth, it was an absolutely perfect trip!
Comments
comments