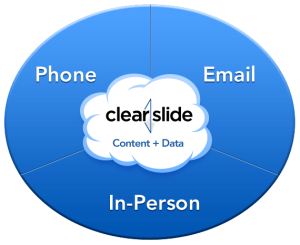 Some may think that a struggling economy has made things nearly impossible for salespeople across the country, but with the ability to now use sales software and liveware right at your fingertips and increase your sales without leaving your home, things have never been easier. There are many different platforms in which you can help build on your craft, and here are a few of the programs that will drive your sales.
Yesware
Yesware was created in 2010 as an e-mail service for salespeople. What it is, is a plug-in for your e-mail that you can use with Google Chrome or Mozilla Firefox. Templates are set out depending on the type of e-mail that you are sending (i.e. memo, sales offer, etc.) and will let you know once the e-mail has been opened and the links that have been clicked on.
Since it automatically tracks this data, there is no need to take the long and grueling time of entering it into a spreadsheet as that information will already be available for you. It's been vital for salespeople over the past couple of years and is a great tool for sales and marketing.
Reports and analytics make Yesware a valuable tool and will give you a monthly view of your e-mail statistics to help improve your profit.
Clearside
Think of Clearside as a cloud of sales information that can play a vital role in the development of your sales force and increase productivity, efficiency and of course the bottom line.
According to their official site: Sales teams start by uploading their sales collateral to ClearSlide, including everything from presentations, PDFs, videos, interactive web pages, and more. Sales can deliver this content through several different methods, including phone calls, emails, and in-person presentations. Sales teams can work together to share effective content and strategies, even with remote offices.
With that type of efficiency, it's hard to imagine that there are many better ways to maximize potential. One of the hardest parts of sales is making sure timing and strategy are being used effectively and Clearside will make it much easier.
Salesforce
Salesforce will also take a cloud of a lot of different data to provide you with strategies that fit your company. There are different clouds that are provided, including the sales cloud, data cloud and service cloud that all utilize your customer relationship management effectively.
According to Salesforce, their Sales Cloud is designed to Improve sales productivity, boost win rates, grow revenue. With Salesforce Sales Cloud you get all the CRM capabilities you need to connect with customers and close bigger deals faster, anytime, anywhere.
Oncontact
Oncontact provides an exclusive web-only service and according to them,  (Our) CRM system is a 100% web-based solution designed to help sales, marketing and customer service departments exceed their expectations in an easy-to-use, productivity driven, customizable environment.
Much like the others, you can try Oncontact for free so try to give these a shot and see which one is providing you with the best service and highest profit. Not every strategy will be the same so they allow you the freedom to shop around. Consider these next time you are trying to drive CRM.
Comments
comments