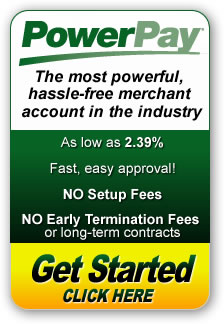 In my experience as an entrepreneur, finding and getting approved for a decent merchant account can be a hassle. And as a home business owner, that hassle is multiplied significantly, because to them, every home based business is some kind of a pyramid scheme they want no part of.
Sound familiar?
If you've ever applied for a merchant account and have been denied because of the industry you're involved in, you know what I'm talking about.
I've tried PayPal, Chase, Bank of America…and the list goes on. For traditional brick and mortar business models, not a problem. But for the typical network marketer, they got no love.
Here's a quick example of my past frustrations with merchant accounts.
Back in the day, I was part of a great company which offered top tier products. It was a direct sales company and by being so, was also a network marketing company. I had recently sold two conference tickets, which came out to a total of around $21,000. Well, the merchant account I was with decided, out of the blue, that they were going to hold every penny $21,000 for six months….just to make sure it wasn't fraudulent.
So, you'd better believe I threw a fit and had it resolved in a matter of no time. In fact, I don't think you'd want to ever see me in the state I was in. Afterwards, I felt bad for the poor people on the other end of the line.
That's just one example.
In searching for a merchant account that would not only fulfill my needs as a home business owner, but also in other areas of business, I discovered a company called PowerPay.
The Most Powerful Merchant Account in the Industry
PowerPay has been nothing short of amazing. The application process was extremely simple. I didn't have to jump through hoops while juggling to get approved. And as an online entrepreneur requires, they integrate with Authorize.net for online sales.
Here's a few details about a PowerPay merchant account:
As low as 2.39% (includes AVS)
Fast, easy approval and setup!
NO Setup Fees for merchant account or gateway
NO Early Termination Fees or long-term contracts
And easy to setup affiliate program
To get started with PowerPay, you can either CLICK HERE or visit their site by clicking on the banner within or  to the right of this article.
Comments
comments