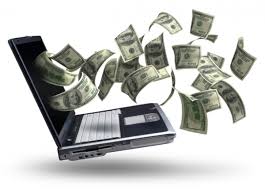 This blog post is for those who would like to make some easy money! It is also for those who own a blog, or would like to make money as a blogger!
So, if that's you, listen up.
I've mentioned this before on my blog, but making money as a blogger really isn't that difficult. There are opportunities to generate revenue through your blog everywhere. You just have to know where to find those opportunities. With that said, I'm going to recommend two different paths for you. Which path you take is completely up to you.
The first path is for those who do not have a blog and really don't want to have to deal with the hassle of setting up a blog, paying for hosting or domains and messing with customer service. If that sounds like the path you'd like to take, then visit this page HERE, fill in your email address and watch the video. You'll know what to do from there.
The second path is for those who already have a blog or would like to start their own, self hosted blog. If that's you, continue reading.
There are companies out there who will pay you for your content. One of those companies is Link Vehicle.
You may already know about this company, and if you do, then congrats. You're already on your way.
But if you don't, and you'd like to learn more, I'll provide some links within this blog post that will point you in the right direction.
What is Link Vehicle?
Link Vehicle is an advertising company that connects companies, who would like to spread the word about their product or service, with bloggers like you and I. These companies are looking for exposure, and Link Vehicle, with the help of content publishers (Bloggers), can help them to accomplish that, and in a few different ways.
In Content Text Links: By placing links to their website on your blog, they'll not only gain from the direct traffic your link refers to them, but will also, over time, gain higher search engine ranking. Which, of course, results in more traffic to their site.
Sponsored Reviews: With sponsored reviews, you can set your own pricing for writing a review of the advertisers product, service or website. Heck, sometimes you don't even have to do that. Just as long as you place the link they provide, you can write about whatever you desire.
Like I said, you set your own price per post or link. I've been paid as much as $120 for a single post, and as my blog grows in popularity and authority, that price will rise.
To sign up for Link Vehicle, click on the banner below and get started on earning.
Comments
comments