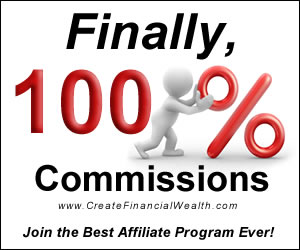 One of the most basic ways to make money online is through affiliate programs. In this post, I'm going to show you how to join the best affiliate program ever and show you why you should join.
What is an Affiliate Program?
If you don't know what an affiliate program is, I'll explain real quick. To put it simply, it's a way for you to sell everyone else's products for a commission. Most affiliate programs offer a one time commission, which is a percentage of the sale price, such as 15% or 30%. So on a $100 product, you'd make a one time commission of $30. Hosting companies such as Godaddy and Hostgator have affiliate programs that pay you around $100 per new hosting account opened. Sure, the hundo (hundred) is nice, but if you know anything about hosting costs, it's nothing compared to the money the hosting company will make from your affiliate sale over time.
When you join an affiliate program, you become the affiliate and are given links, banners and other advertising materials which all link back to your affiliate ID. Your ID makes sure you get the credit for the sale when someone decides to buy. Major affiliate networks, such as Commission Junction, make it easy to find affiliate products to promote.
The Upside of Affiliate Programs
The great thing about affiliate programs is the opportunity to create a revenue stream without having to create, develop, patent and copyright a product of your own, let alone market it.
On the flip side, it's also great for the company offering the affiliate program. Instead of marketing their product solely on their own, they can generate a significant amount of business through you, their affiliates.
The Problem with Most Affiliate Programs
Although affiliate programs are great and can generate a significant income stream, in order to make an income, you must continue making sales. There's no residual aspect to most affiliate programs. Some affiliates do offer on-going monthly commissions on certain types of subscriptions and similar items, but the percentage of your monthly commission is usually smaller than ideal.
Here's my idea of the best affiliate program ever.
The best affiliate program ever would be one that paid me 100% commissions, and not just a one time payment, but on a monthly residual basis.
The best affiliate program would also involve a sales funnel that would continue to upsell my current referrals, making me more income at higher 100% commissions levels.
It would also have a low cost product as a starting point, a product that a wide variety of people can use and afford.
The best affiliate program would also teach my referrals how they can also make money for referring people and give me, the person that referred them, a few of their referrals, commission included.
The best affiliate program would provide more than just banners and links to promote their products with. It would also provide me with an easy to use blog, lead capture pages and splash pages.
It would also integrate with my AWeber account so that I could continue to promote their products to my list.
Is there such a thing and how can you join the best affiliate program ever?
Yes, there is such a thing and it's easy to join. First step, I'll have you watch a quick video. Simply fill out the form at the top of this page for immediate access to the video. You'll see a timer on count down below the video. Once the time reaches zero, you can sign up immediately.
Comments
comments