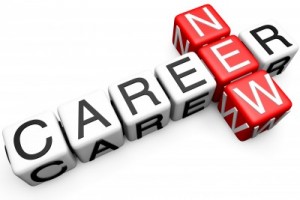 Making a career change can sometimes feel like jumping from one side of the Grand Canyon to the other. Leaving the familiar, or the things you're in the habit of doing every day, can be a little uncomfortable, especially if you've been doing those things for a long period of time.
Those of you who have recently gone through a career change know what I'm talking about. It can be tough, but we have to be honest with ourselves, it would probably be tougher having to endure a lifetime without the career change!
So instead of submitting ourselves to a lifetime of misery, doing something that brings absolutely zero satisfaction, changing careers is the only course of action to take.
But when most people think of a career change, they're thinking of changing from one job to the next. I recently had a conversation with a neighbor of mine who is sick and tired of his current career as a teacher. Part of his desire for change is his current income and long term earning potential. So naturally, he's looking into his career change options, and this is a prime example. He's considering going back to school to become a nurse. So his outlook on changing careers involves jumping from one job into another.
That's not a bad thing. It's just the way most people think. If you've only known a job your entire life, a job is most likely what you'll change into again.
My Challenge to those looking for a Career Change
If you're currently in a job and are about to make a career change, consider the option of changing into an Entrepreneur. Start a business instead of starting a new job! Sure, it may take a little more preparation, but the rewards are far more rewarding.
Actually, I need to correct that last phrase. The rewards are far more rewarding if you choose the right business model. Owning a business that seems more like a glorified job is not what I call rewarding. An example of such a business would be a franchise owner. I've met owners of Subway's, Quizno's, Little Ceasar's and other similar franchises who are tied down to their business for 12 or more hours a day. Thus, all they did was purchase themselves a glorified job.
If you're going to buy a franchise or invest in any other business, make sure your income will be great enough to hire employees to run the business for you. Otherwise, it defeats the purpose.
A career is considered a person's lifework. It's your course or progress through life! Make a career change that will be impactful!
Consider this Career Change Option
Instead of looking at a brick and mortar business, one that requires a store front, look at starting a business online.
Obviously, by looking at the banners on my website and the nature of my blog posts, it's apparent that I'm an internet marketer. I make my living mostly online. I teach others who are looking for a career change, how to make a full time income working from home.
At one point in my life, I had to take that jump across the Grand Canyon of all Grand Canyons. I transitioned from a job into entrepreneurship and it hasn't always been the easiest path, or the most accepted path amongst family, but it has definitely been one of the best decisions I have ever made.
Once you learn how powerful and lucrative starting a home based business can be, you'll never want to go back to the job you came from. It will change your entire perspective about how to make money and will give you the time freedom you've never been able to experience before.
And unlike a job, your earning potential has no ceiling! There's no limit to what you can make with your own business.
Contact me today if that sounds enticing to you. Fill out one of the forms on this website and see what a career change into the online marketing world can do for you.
Comments
comments