Incident Report for 100% Commissions Paid to David Allred
Date: December 10, 2012
Time: 6:56 PM (Mountain Standard Time)
Location: Central, Arizona
Scene: Upstairs TV room
Activity at Time of Incident: David was watching "The Grinch" with his wife Amy, and their four children.
Commission Earned: $997
Correspondence: Email Titled: Congratulations David, your team member just earned you $1,000.
Congratulations David!

This may just be the most badass email that you've ever read in your life.

Why?

Because you just earned $1,000 – doing nothing. Your team member passed up a sale, they did the work – and you got the money. Isn't that gangster?
Action Taken After Incident: David looked at Amy, said, "We just made 1000 bucks." She did a fist pump, David smiled, sat back and put his feet up on the nearby ottoman.
Aftermath: David's bank account balance was now bigger as a result.
Evidence: Screen shot of email.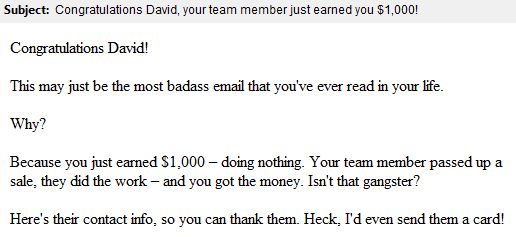 Call to Action: These results are real. Not everyone can or will make this kind of money, passive or residual. Only those who actually get started in THIS BUSINESS and take the actions necessary to receive those 100% commissions, will actually make money. So…are you one of those kind of people?
Learn how to replace David's name with yours right HERE.
Comments
comments