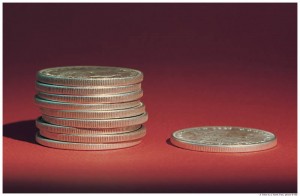 In my experience, success in life and business comes as a result of following simple principles. Staying consistent, being persistent, being the leader and concentrating on income producing activities are simple principles anyone can follow.  At least I'd like to think that anyone can follow them. There are those who never cease to amaze me!
For those that share my Christian beliefs, sacred principles, created before network marketing became a word, also influence your success. And the one I'd like to focus on is the principle of tithing.
So I'll come right out and say it. If you want success in your business, and you're a spiritual person, pay your tithing!
What is tithing and why should I pay it?
Tithing is a commandment. Although it isn't part of the original Ten Commandments, we are commanded, not just encouraged, but commanded to give one tenth of all our gain to the building up of the kingdom of God here on Earth.
In the King James version of the bible, in the book of Malachi, chapter three verse 8, it reads:
8. "Will a man rob God? Yet ye have robbed me. But ye say, Wherein have we robbed thee? In tithes and offerings."
In verse nine, it says that they were all cursed, even the whole nation, for not paying their tithes and offerings to the Lord. So first and foremost, if you want to avoid a curse from on high, it would be wise to pay your tithing!
Also, the first law of heaven is obedience. Obedience brings blessings. As an example, when a parent tells their child to look both ways before crossing the road, it's not because they're trying to control the child, or make them do things for no reason…it's because they're trying to keep them safe by teaching them principles to follow.
The same applies to obedience. As we follow the Lords commandments, as we are obedient, we'll also be blessed in ways we don't always recognize….just as the child doesn't always recognize.
Those who pay their tithing will be rewarded!
In the book of Malachi again, chapter three verse ten, it reads:
10. "Bring ye all the tithes into the storehouse, that there may be meat in mine house, and prove me now herewith, saith the Lord of hosts, if I will not open you the windows of heaven, and pour you out a blessing, that there shall not be room enough to receive it."
Now, I don't know about you, but that is a pretty bold statement. The Lord says he will prove it. If we'll pay our tithes, he will open the windows of heaven with a blessing, and that blessing will be more than we gave in tithing.
What a promise! We won't have "room enough to receive it!"
If you desire financial blessings and success in your praiseworthy cause, pay an honest tithe, and you'll be blessed with more than you can handle.
I'm in!
Now here's some proof that paying tithing works.
There have been stories after stories of those who had the choice between paying their tithing, or paying their bills, and they chose to pay their tithing and were blessed financially because of it.
Most commandments given to us are designed to be trials of our faith. They are designed to test our very beliefs, yet, if we prove faithful, we will be rewarded.
For me personally, nearly every time I pay my tithing, I am almost immediately blessed, and these are blessings that which I am able to recognize. Here recently, just last week, I paid my tithing and was blessed with several new sales in my business the following day. And I know that when I haven't paid a full tithe, my business doesn't flourish as it should.
The principle of tithing, even for those who are not Christian, is a principle of success.
If you expect blessing from our Creator, pay your tithing.
Note: If you'd like to know more about the principle of tithing or my faith, click here. If you'd like to know more about what I do for a living, fill in your email in the form below.
Comments
comments