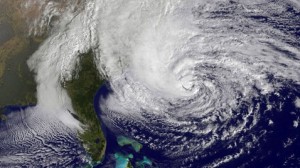 Normally I'm a weather nut, meaning, I love to be caught in a bad down pour or crazy snow storm. Well, I shouldn't use the word "caught," I guess. I love to go out in them, as long as I know I can make it home safe and sound. Even if that means having to ram my SUV into a bank of snow just to get into my driveway! I know, give a man four wheel drive and he thinks he can do anything, right?
With that said, getting caught in a hurricane, such as hurricane Sandy, is another story.
I've been constantly searching for updates on Facebook and other avenues to see how everyone I know is doing during this storm. Some of them are with power, some without. Some say their homes are being hit by falling trees, their power is going out and the floods are coming. Sounds like a load of fun. Sure, storms are neat and all, but when your life or your habitat is being threatened, fun goes out the window!
Hurricane Sandy – Some Positive Aftermath
Although many are effected and are still being effected by hurricane Sandy, there has been some extremely positive news coming from the East coast, even with hurricane Sandy overhead. While homes were being flooded and common areas destroyed, it has to bring some peace of mind knowing that regardless of what happens, you're business is still making money.
Here's an email I recently received from a friend and colleague of mine:
Just a quick note while we still have power 😉
Shannon, Trinity and I are waiting out hurricane Sandy here in Delaware….
I'm looking forward to our move to Utah in January more than ever 😉
This morning we sat on the couch watching Toy Story 3 with Trinity and sale after sale came in…
$725.00 in total so far and it's not even lunch time yet.
I wish you could see my smile of gratitude and joy.
You deserve this…
The peace of mind that comes from knowing your business is working 'round the clock without you.
So you can relax, spend time with your loved ones, doing what you want (or need to do).
This morning, I needed to relax with my family and enjoy a good Disney movie and the money flowed in without any attention on my part.
Great way to spend a Monday morning, don't you think?
John, I can see the smile on your face buddy, because I have been wearing that same smile!
How many people have experienced a slight drop in income because they couldn't open up their store or get to work? I guess what I'm saying is that it's nice to know that there's always money in the bank. By taking a little bit of action and accepting a little more change in your circumstances, things could be really, really different financially.
I completely agree with John, you DO deserve this. Click Here to learn more.
Comments
comments