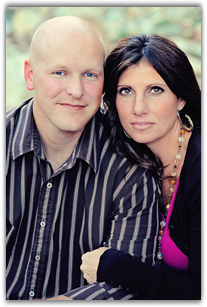 On November 5th, 1999, I convinced the most gorgeous, talented, head strong girl in the world to be my bride. Today, we have officially been married for thirteen years, and man has that time gone by fast. We now have four awesome kids, which I couldn't imagine life without. The first three are girls and the trailing one is our boy ranging from age eleven down to 8 months.
Happy 13th Anniversary
I tell you what, life is good when there's love at home. I can't tell you how grateful I am to my wife. She's an amazing spouse, mother, sister, daughter and my best friend. She inspires and expects me to be a better person, and I hope I do the same for her. She puts up with my entrepreneurial spirit and supports me in my crazy endeavors, no matter what they are.
I feel so much sorrow for those couples who grow apart over the years. I can't say that I know the exact cause for each situation, but I do know that in almost every case, selfishness is involved. It can destroy a marriage and thus, split up a family. And over the last thirteen years, selflessness has been a trait that I am still working to perfect. And because of that, things aren't always easy, we don't always agree, but we work through our differences together.
Where did David and Amy meet?
We met for the first time in 1996. We both worked at a local IGA grocery store called Thrifty. Amy worked in the video department, renting out movies, and I was the floor boy, or the janitor. And to tell you the truth, I wasn't a very good janitor. But I can assure you, the floors were spick and span in front of the movie rental counter where she worked.
Even though we met then, I was currently dating another girl, so Amy and I never went on an official date together. I left later that year to serve a two year mission for my church. We wrote occasionally during that time and dated when I returned.
I asked her to marry me on July the 24th, 1999, and in our small town, we celebrate Pioneer Day on the 24th. It's a holiday for the LDS church which involves a huge celebration with a parade, barbeque and fireworks to finish it off. A great way to end a perfect day.
With that said, Amy, I've had a blast with you since the moment we met. I love you and can't wait to spend eternity with you. Happy 13th anniversary Mrs. Allred!
Comments
comments