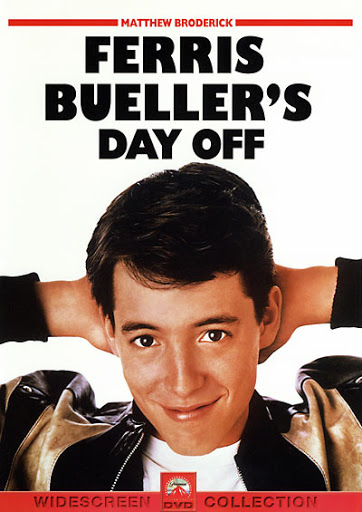 On New Year's Eve, in between sweating to death while playing "Just Dance 3" and stuffing my face with pizza, I managed to see a commercial or two. One of the commercials was a preview for upcoming movies scheduled to be played on the network. One of the previews was a brief snippet from the all too popular movie, "Ferris Bueller's Day Off." One of my all time favorites, but the way.
Ferris Bueller's Day Off 2012 Quote of the Year:
"Life moves pretty fast. If you don't stop and look around once in a while, you could miss it."
Now I'm not real sure, but the fact that it was New Year's Eve could have been the reason this phrase stuck out to me the most. Life DOES move by really fast and if you're not careful, you'll miss a lot of it, if not the entire thing.
In fact, I took this entire holiday season off from any kind of work. Starting on Friday, December 21st, through January 1st, 2013, I was invisible to everyone who wasn't with me in the flesh.
I loved it…and I highly recommend it.
There are fifty other weeks during the year to work! Right?
I did actually take one or two calls. One of those calls was from a colleague of mine. In fact, he's the one who enrolled me into the business opportunity I work right now. He mentioned something we had spoken about in a conversation a while back, something which I was supposed to take action on, and I realized that that particular conversation happened nearly three months ago.
"Life moves pretty fast", is an understatement. I feel like I'm in warp speed and if I let something fall by the wayside, it'll never get attention. And my biggest concern is that others let things fall by the wayside, just like I did after that conversation. Important things! Families fall by the wayside everyday, because someone is too busy at their JOB or with their new business to "stop and look around."
Life moves by really fast and it's important to push the pause button occasionally, so that you can actually live in the moment.
My call to action: If you didn't take a vacation in 2012, stand up and add a date to your calendar. Do it right now! And when I say vacation, I mean a week or two without working whatever it is you work on that provides you income. Take your family with you, and do your best to give them ALL of your attention.
They deserve it, and so do you!
P.S. Taking time off is much, much easier to do when your business will continue to pay you, residually, even when you're not working. Click HERE to learn more.
Just for kicks, here's the quote on video!
Comments
comments