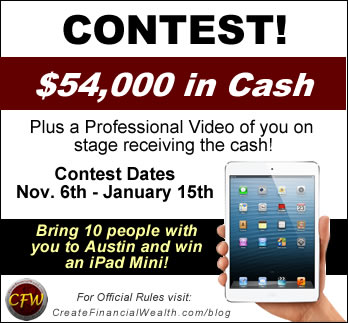 It's time for a contest, an affiliate contest with multiple chances to win. In order to participate, you must be part of the Empower Network. Instructions for joining will follow contest details.
Everybody Loves a Contest
Empower Network, as part of this contest, is giving away $54,000 in cash at their Austin event in January, on stage, live. Plus, in addition to the cash, you also get a professionally recorded video of you, on stage, getting handed the cash.
How do you think that will help your marketing efforts online? Most internet marketers would kill to have something like that to promote with. It's a golden nugget!
The cash awards for the top 10 break down like this:
1.  $30,000 in cash.
2.  $10,000 in cash.
3.  $5,000 in cash.
4.  $2,500 in cash.
5.  $1,500 in cash.
Places 6-10:  $1,000 cash.
In addition to the cash prizes, you'll also have an opportunity to win a Leadership retreat and access to a Leaders Only training. The last Leadership retreat was held on a Yacht which cruised around the San Francisco Bay. Not bad!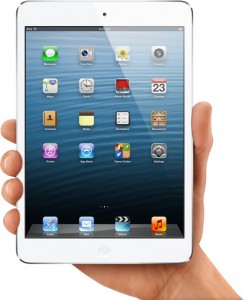 And that's not all. Anyone can win one of these bad boys, it's an iPad Mini. All you have to do is get ten people to go with you to the Austin event, and this little piece of Apple machinery is yours to keep. Such a simple task to do. I image there will be a lot of iPad Minis floating around in Austin!
So there you have it. The contest is running from November 6th to January 15th, just three days before the event.
So if you're not part the Empower Network yet, jump on board and get your piece of the contest.
Instructions for Joining the Empower Network Contest
Click Here, enter your email address in the field, watch the video and then sign up for $25. It's so easy to get started.
I look forward to seeing you in Austin, with your cash prize, iPad Mini, or both!
For official contest rules, click here.
Comments
comments