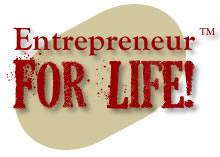 I think I'm going to create my own clothing line and put a logo on it that says, "Entrepreneur for Life." Not only will it give me a little boost in my step, it will educate people about who I am and help them to understand why I do the things I do. So the next time someone asks what I do for a living, I'll tell them and possibly share a little of what I see for my future. Maybe, just maybe, if I am wearing my shirt that bears "Entrepreneur for Life," they'll get the big picture.
It's actually pretty funny to see the look I get when I tell someone of an idea I am having. They look at me like I'm crazy and proceed to tell me that it won't happen.You know, because they are an expert. I think the reasoning behind it is the fact that they just don't understand why I can't just be normal. Why can't I just get a job like everyone else they know. I am so weird to them. To them, it takes too much energy to do what I do.
After the first few times of being lectured about how things can't be done, I started to make a game out of telling people about my ideas, just to see what kind of a reaction I could get. It's actually pretty fun. You should try it…often…and where possible, capture it on video. I'd like to watch it because chances are, you'll get the same reaction I always do. Only a few people in my life actually get excited for me when I share my vision for my future.
I remember specifically, the other day I told someone about my future goals as an entrepreneur…dead silence. Not even an acknowledgment! And lately, whenever that happens, I know I am on the right course. It just motivates me and should do the same for you, knowing that you are definitely "outside the box" they are currently living in.
Now I don't know about you, but it seems like when I am the most comfortable, the less control I have of my life. As entrepreneurs, we do the things that most people won't, so that later, we can live a life that most people can't.
I'm excited to be on this journey with all of you! Entrepreneur for life baby!
Comments
comments