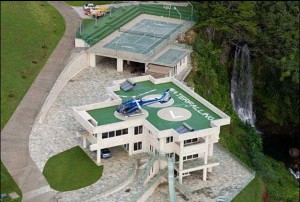 As I was surfing the web today, looking for new advertising opportunities for my business, I stumbled across something that gave me a big slap in the face. It helped me realize that I haven't been thinking big enough!
Dream Bigger – Get Rid of that Small Thinking
It's funny how sometimes we can get so fixated on one thing that we put on the blinders that keep us from seeing the bigger things right next to us. And that's not necessarily a bad thing I guess. It just means that we're being super focused. But what if that one thing that we're focused on is keeping us from getting something much, much larger?
It's like taking a chicken leg from the chicken because all you've been thinking about eating for the past week was chicken legs, when we all know that there's a heck of a lot more meat on the rest of the chicken.
Anyway, to get to what inspired me…..I stumbled across a slideshow of a $40 million mansion in Hawaii, and it made my jaw drop. It expanded my vision for myself and helped me realize that I have been trapping myself with my small thinking.
I think it's a healthy practice, to dream big, more often than not. So, in your busy schedules today, whether you're on the job or working from home, like myself, take time to watch, look at, visit or read something that expands your vision of all that's possible.
This mansion did that for me today. The image you see doesn't even include the golf green or the Olympic swimming pool and diving platform. If you click on the image, it will enlarge for a little better view.
Comments
comments