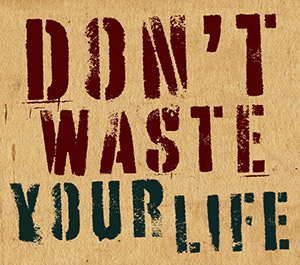 One thing we have going for us as humans is our own ability to create something out of thin air. Especially when it comes to our time. We have the ability and resources to spend it in an array of ways. How we spend it has a direct reflection on our results in life. If someone isn't getting their desired results in life, chances are, they just simple aren't spending their time doing the things they must do to get the result. The hard part for people is knowing how to change the way they spend their time. It's so easy not to change, right?
My point is….so many people have time working against them instead of for them. It seems that most people are in a hurry to die, to put it bluntly. The sooner they get off work the better, the quicker the day goes by the better, the faster the time goes by so that they can sit there on their couch, the better. Most people want time to fly by and in my experience, thinking of all the times that I wanted time to fly by, these were the times when I was most miserable. I was either at a job I hated, with someone I didn't enjoy being with, terribly sick, in pain or just flat out sick and tired.
These were the moments in my life that I wanted my time to go faster. These were the times that I wanted to speed up time and literally get closer to my end. I wanted time to pass by faster, I wanted to waste that time just to spare myself of the misery I was experiencing at the moment. I wanted to get older, just by a small bit, so that I could move on with doing what I wanted to do and enjoyed doing. In doing so, I wasted a small section of my life…..a section that I will NEVER get back. Your TIME is your LIFE. It's a simple concept….if you waste your time, you waste your life.
Don't Waste Your Life
So let me ask you a question: Who in their right mind wants their life to pass by quicker? Who, having a sane mind, wants to die sooner? Because that's basically what you're doing when you spend your time doing what you can't stand to do, hoping it passes by quicker. Now, fifteen minutes of time wasted at your job may not seem like you are wasting your life, but what is fifteen minutes multiplied by five or six days out of the week times 52 weeks in a year times the number of years you have been wasting 15 minutes a day. That adds up to a lot of wasted time, doing something you cannot stand to do. And if you are just working that job or business just for a paycheck and get no personal satisfaction or enjoyment from it, what are you doing?
So let me rephrase the question: Who in their right mind, who is following their passions in life, wants their life to pass by quicker? Who, having a sane mind and is living life to it's fullest, wants to die sooner?
So how do you live life to it's fullest or at least know you are? Here are a few questions for you:
Is there something you have wanted to do for a while but haven't taken the action?
Do you feel like you should be doing something more with your life?
Do you hate your job?
Do you feel like you are just going through the motions just so the time will pass by?
Do you find yourself thinking of all the great things you could have done in your life up to this point?
These are just a few questions and if you answered YES to any of them, chances are, you are not living your life to the fullest. My suggestion to you: Time is ticking, get to it!
Comments
comments