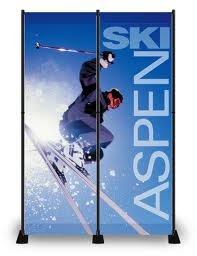 As entrepreneurs, we're always looking for effective and creative ways to promote our businesses. We're always promoting. At times, it seems as though we aren't capable of having another thought outside of our business, and that's completely normal. When you're passionate about what you're doing, that's what you eat, sleep and talk. That's just the nature of the beast.
So in getting to my point, have you ever gone to a conference but got lost in the hotel trying to find it? And as you wander around you notice one of those standing banners telling you that you're headed in the right direction? Then, as you start to get closer to the conference entrance, these banners start getting larger and larger. Those things just catch you're attention!
So I've done a bit of research on these things and they're called trade show displays, or stand up banners. They come in all sorts of shapes and sizes depending on their purpose, custom printed with your ad. You could place these things almost anywhere that would allow it. If you are thinking of setting up a booth somewhere, think about using these as the backdrop. They're classy and demand attention.
Another creative advertising idea would be custom vinyl banners. If you have a more traditional business, a vinyl banner would look great on your store front or on the side of your business vehicles. If you're a home based business owner, vinyl banners work great on your personal vehicle and bring in quality leads. We've made tens of thousands from vinyl lettering.
With marketing, it's all about getting those creative juices flowing, because when they are, you'll discover ways to promote your business that others haven't tapped into yet. That's where you'll find your success.
Comments
comments