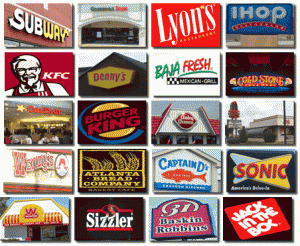 I had a conversation with a family member today on my wife's side of the family about business ideas. He is currently in the plant business and has been for several years now. They are very good at what they do. They are also diamonds in Amway as well and have multiple streams of income, but yet, I get the feeling they still aren't where they want to be financially. I enjoy our conversations and learn a little here and there. One thing I know, and is reaffirmed every time we speak is simple this business opportunity is and how little other opportunities compare.
Considering a Franchise
This family member was thinking of turning his current business into a franchise opportunity. He then went through some of the costs associated with moving forward with that. He noted that it would cost him $160,000 just to get it all set up. Then, you must market the franchise, hire employees, etc. When it is all said and done, you are into a whole lot more work and have forked out a pretty penny to get it all going.
Now, the benefits of starting a franchise as the founder are probably more significant than that of someone who is looking into buying into a franchise. He said it would cost approximately $35k to 50k to get started in his franchise. Then he told me something that really hit me. He said, in my words, "You won't become wealthy with this franchise but you can make a living." I'm sure he would do well collecting royalties and franchise fees, and it might be a profitable deal for him. Risk is everything!
You know, most franchises are like this. You won't get rich from them unless you own several. For example, there is a guy here locally who owns 3 or 4 subways. Now, depending on the size of your store, you are looking at an investment range of $95k to $225k. Then you have to think about royalties, employees, advertising, etc….. The average salary of a subway owner is about 40-50k a year, depending a varying on the location and size of store. I guarantee I make more working 3 hours a day 4 days a week than this man does working 12 hour days 7 days a week! I see him at his stores, and he looks like a successful franchise owner, always there!
So, I love franchises, as long as someone else is running them. There is too much fun to be had and too much money to be made with my business opportunity than to be wasting time with a franchise. When I say that you can make your annual salary in a month, I'm not blowing hot air. I have made in a month what a subway owner makes in a year! If I can do it, anyone can.
Comments
comments