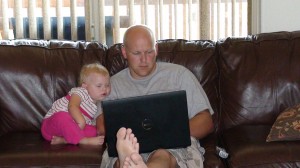 I'd like you to meet one of my business partners! We seem to work pretty well together….she sleeps and I'm the head rest. Frankly, all this computer stuff just bores her to death so I have decided to take on the roll of advertising online even though she is a huge part of it still. She does more advertising for me than she knows, just being her. So whether she is helping me shave, falling asleep on me while I work or just wanting to play, she is reminding me that I am successful! My reason for doing what I do is to be at home. This picture is my success!
Choosing business partners is a serious matter and I have chosen mine already. I have more than just one. I have chosen them because they inspire me and remind me to have fun. They're loyal and honest. I love seeing the world through their eyes as it gives me an entirely new perspective. They greet each day with new excitement and energy. There is never a dull moment and they definitely keep me on my toes. Most importantly, I love them. They are my family!
Honestly, let me ask you a serious question. Who would you rather spend the most time in your day with? Your Boss, your business partner, your employees or your spouse and kids? I guarantee that nobody in this world deserves more time with you than your own family. Yes, you must still build relationships, do business, make money, go to church and all that stuff, but not at the sacrifice of those you love the most, your business partners for life, your family.
If you have a goal to have more time for your family, what are you waiting for? Something is not going to fall out of the sky and hit you on the head saying "here it is!" Although, that would be nice at times. It would be so much easier. I actually quit my job before I had the income to replace it because I knew that wasn't the life I wanted to live. That was nearly 5 years ago. Now, I am successful. I work from home, make Great money and am living the lifestyle I chose to live nearly 5 years ago when I quit my job. I didn't hesitate on that decision and neither should you. Don't find yourself five years from now still wishing to have more time to spend with your family or for that lifestyle change.
What's more painful for you: Spending your entire life wishing, or, taking a risk at your dreams and failing? I sure hope you chose the first. You can always try again at your dreams but will never, ever get your life back. Make it happen!
Comments
comments