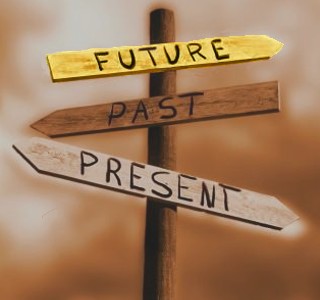 This weekend I went on a road trip to see some family. I had a little extra time while there so I decided to shoot some hoops across the street at a school playground. It was the perfect setting. There was a slight breeze, the sun was setting and the weather was great. Not only was it a great time for basketball, it was also a great time for reflection. Sunsets seem to do that. They get me all deep in thought.
Change Hindsight to Foresight
As I was there I started to reflect a bit on my actions in the past. I started to think about how passionate I have been in pursuing all that I have up until this point. I started to wonder if I truly am following my heart and what I really want for myself and my family.
While thinking of all that I have been able to accomplish, I started to realize and acknowledge that my passion for being the best in everything I have done has been mediocre in several areas. I realized that I could stick my neck out a little more, put in a little more effort and utilize my time a little better. The reflection of the past turned into a reflection of the present and my immediate future. "I am 32 years old. I have accomplished a lot…but am I doing it at the rate I want to and am I making a big enough difference in people's lives?" These were my thoughts. By looking into my past I became more passionate about my future.
As long as we don't constantly dwell on the past, I think a good self check is in order, a quick glimpse into the past to keep ourselves accountable for our actions. We must review our performance from time to time to make sure we are acting as though we think we are acting. But isn't that so true? While in the present we always think we are doing all that we can and once we look back, we realize that we could have done more.
This is a classic example of hindsight…to perform the action and then realize later how it could have been done better. Of course, as our knowledge of what's possible increases so does our hindsight. But, the same is true for our foresight. As our knowledge of what's possible increases, we are better able to foresee a bit of the futures outcome.
Our past and future are connected by the present…and at the same time, separated by the present. Our past will NEVER dictate our future unless we allow it to, through our present. Meaning, the actions we take right now, and right now and right now, will determine the future and if those actions are the same actions we have always taken, then our past is dictating our future. Now, if the actions we have taken in the past are good actions, leading to a brighter future, then all is good. However, if those action are not good and lead us to a life of misery, unfulfillment and struggle, we must separate our past from our future by our present actions.
It sounds simple right? All someone has to do to get better results is change the present. This is where your hindsight becomes important. The entire purpose of studying history in school is to learn from the past so that we might avoid making the same mistakes as humanity. The entire purpose of self reflection is to learn so that YOU might avoid making the same personal mistakes, over and over again. If you haven't learned anything from your past, what the heck are you living for. Grab a pen and piece of paper next time you reflect on your past results and become a student. Learn how to avoid repeating the mistakes of your past. Surprisingly, you'll learn a lot more than you think, if you do it right.
But it's also important to know, if you spend too much time studying the past, you will lose sight of the future. So learn from your past as you gaze on your future. Learn for your future. That's the goal.
To sum things up: To change your actions in the present, become a better student of your history so that you can become a better YOU in the future.
Comments
comments