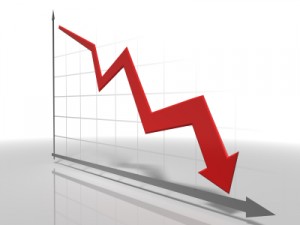 Unfortunately, Network Marketing companies come and go, or, you are someone that comes and goes, bouncing from one company to the next. Although a company seems solid, with a good product and great compensation, there's no guarantee that it will be around forever.
My BIGGEST mistake as a home business owner, was putting all of my eggs into one basket. I put so much trust in the concept/product/owners of the company I was part of that I didn't have a back-up plan. Now, if it's all solid, there are no worries. But, if things go a different direction, if the company crashes, if the products lose their value or if any other variable happens that effects the company, it also directly effects your income. Instead of putting so much into the company, put that focus on the goal.
So imagine that 6 figure income you had managed to create while working your home business, suddenly gone, or significantly reduced. Now, if it was your doing, that's one thing. But if was a direct correlation to something that happened in the company, that's an entire different story! Without pointing fingers or taking a victims mentality, how does one recover from something like that?
Here's how I recovered……I relied on the online presence I had. With the amount of content I have all over the net, the presence in social networking sites and the organic rankings on all major search engines, I had choices. With consistent, FREE traffic coming to my website, this site, a crash of a company wasn't a complete disaster. All that did was gave me options.
I could…….
Join another business opportunity or….
Do something else with the traffic I was getting.
I could develop my own products and promote them on my site. I could completely monetize my website with sponsored listing from ad networks such as Adsense. I could continue to capture leads and sell them. I could promote affiliate products on my site. The list could go on and on.
So if you find yourself in a home based business, and you are purchasing leads, spending high dollar on CPC ads or don't have a web presence, you may want to rethink your strategy. Set yourself up to win regardless of the opportunity.
One thing I teach people about marketing is to use three or four different sources of lead generation. If one or two drop out, you have the other two to rely on until they can be replaced. Without spreading yourself too thin, the same thing applies for your sources of income.
I believe in the Cortez concept of burning your boats, but I also believe in having a back up plan. Expect the best but prepare for the worst and you'll never find yourself in a hard spot, without options.
Stay tuned for my SECOND BIGGEST MISTAKE in the next post!
Comments
comments